For everyone, Senior moving is a major undertaking. However, as an older adult or a senior, it may seem like an even more difficult task. It takes a lot of effort to lift large furniture and sort through all of your possessions. It's especially painful if you're leaving the house where you raised your family. That's why Wowmover has compiled a list of moving and packing advice for senior citizens who are relocating.
Allowing yourself to get overwhelmed by the moving process is not a good idea. There's no denying that there's a lot to do. WowMover, on the other hand, is here to assist you throughout the entire process!
Continue reading to find out how to make senior citizens moving and packing as simple as possible.
Also, Read: Questions to Ask When Looking for Senior Apartments
Plan As Soon As Possible
This is a useful suggestion for any relocation. If possible, start arranging your move six months in advance of your intended move date. This way, when the big day arrives, you'll be totally prepared.
Additionally, if you start planning ahead of time, you will be able to schedule a professional moving company on your preferred date.
Make a Moving Timeline
You'll have a better notion of what your timeline looks like once you've chosen a moving company. Work backward from your moving day in your calendar or planner. To get a better idea of what you'll need to prepare, look over our 4-week moving checklist.
Check Your Storage Alternatives
Storage may be a good alternative for you if you're downsizing significantly, especially if you can't or don't want to downsize. Wowmover provides long-term, short-term, and in-transit storage options, so no matter what type of storage you require, we have you covered.
Also Read: Guide on Maximizing Your Storage Unit
Reduce the size of your home
Try to reduce your belongings before beginning the packing process. If you're downsizing to a smaller home or space, this stage may take a little longer, so give yourself plenty of time.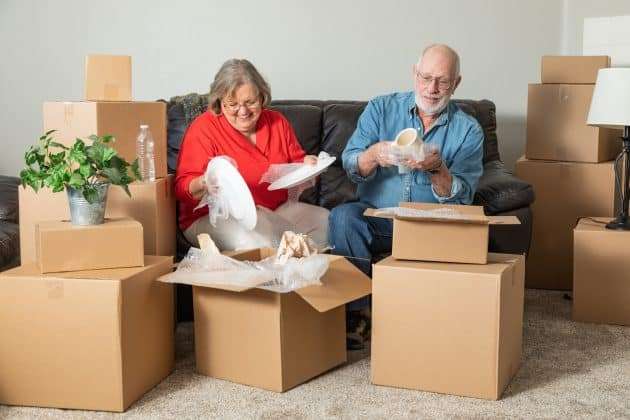 Look into different moving companies to get the right one for you
There are numerous relocation companies to choose from. However, there are only a few that are reliable, efficient, and well worth the money. Even fewer will be an excellent match for you.
With Wowmover, you can rest assured that your relocation is in capable hands. We specialize in relocating senior citizens. We recognize and appreciate the distinction between transferring a young adult and an older adult.
Also Read: Things to Look for in a Moving Company
Gather all of the materials and tools you'll need
If you're packing your own items, make sure you have all of the required supplies on your hands, such as cardboard boxes, tape, and scissors. The last thing you want is to get into the swing of packing only to discover that something is missing.
But don't worry; Wowmover can assist you with this stage. Depending on your preferences and needs, we can either offer you the necessary supplies or pack your items for you. Learn more: Tips On How To Hire The Right Packing Services.
Allow time for self-adjustment
This is a critical stage. Moving may be emotionally draining, especially if you'rese leaving a house you've lived in for a long time.
Allow yourself time to acclimate and feel at ease in your new home. Keep in touch with family and friends, design your home in a way that makes you happy, join a community near your new home—do whatever it takes to make your new house a home or read our guide on 11 Things To Do After Moving Into A Location
Get Started On Your Move Right Now
We can assist you with packing, loading, or the entire process! Get in touch with a Wowmover representative in your area right now. We'd be delighted to assist you in making your relocation as stress-free and enjoyable as possible!

Related Articles: