1-800-GOT-JUNK? can take your old junk off your hands for an affordable price and with minimal fuss thanks to its same-day service, 24/7 customer support, and nationwide availability.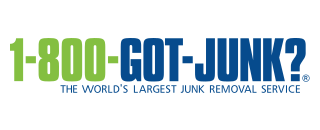 Full-service junk removal
Same-day service
Availability in 44 states
Responsible disposal and recycling
No demolition services
No instant estimates
How much does 1-800-GOT-JUNK cost?
On average, 1-800-GOT-JUNK? costs about $600 for a full truck's worth of junk and around $400 for half a truck. If you're just getting rid of one item, your price will depend on how bulky and heavy that item is. A sofa will probably cost more than a small dresser, for example.
Overall, the company's rates are right around average compared to other junk removal prices. They aren't the lowest we've seen, but they're far from the highest.
Average 1-800-GOT-JUNK prices
| Load size | Average cost |
| --- | --- |
| Full truck | $597.00 |
| Half truck | $400.00 |
| Sofa | $177.00 |
| Fridge | $112.00 |
Data as of July 16, 2019. Prices and availability may vary by location and are subject to availability.
Keep in mind that these prices are just the company's average rates, and your actual price will depend on factors like where you are, what time of year it is, and how far ahead you book your appointment. Special items like bikes and old refrigerators can also cost more to dispose of because of local disposal fees and fuel costs.
Unfortunately, 1-800-GOT-JUNK? doesn't give instant pricing. The only way to know how much your junk removal service will cost is to schedule an in-person appraisal of your junk. When you book your appraisal, the junk removal team will come to take a look at everything you're tossing then give you a binding price.
This price will include labor, and it won't go up if removing your junk takes longer than the crew expected.
If you like your price, the team will haul your junk away then and there. If not, don't worry. There's no obligation to use 1-800-GOT-JUNK?'s services after receiving your quote.
What services does 1-800-GOT-JUNK offer?
Household cleanouts
Attics
Basements
Crawl spaces
Garages and carports
Sheds
Storage units
Estates
Pre- and -post moving
Renovations
Disasters
Every 1-800-GOT-JUNK? team member is licensed and insured.
What 1-800-GOT-JUNK can and can't take
Yes
Appliances and electronics
Mattresses and box springs
Carpeting and rugs
Furniture
Construction waste
Yard waste
Bicycles
Tires
Glass
Exercise equipment
Hot tubs
BBQs and grills
No
Paint
Chemicals
Oil
Asbestos
Storage drums
Old vehicles
Leaky batteries
Is this list missing the item you're trying to get rid of? Chances are good that 1-800-GOT-JUNK? will still take it. The company says it will take just about anything that can be lifted into a truck by two people—as long as it isn't hazardous.
We offer financial assistance to individuals and families who are moving in exchange for details about their experience. Their candid reviews help us provide unique, real-life perspectives about the moving process.
Why we recommend 1-800-GOT-JUNK?
Now that we've addressed pricing and services, let's talk a little more about what we really like about the company.
Its speedy same-day service
1-800-GOT-JUNK? offers same-day appointments on a first-come, first-served basis. Time slots begin in the early morning and stretch into post-workday hours to fit your packed schedule.
To book your same-day junk removal online, simply enter your zip code and address, pick a time slot for the current day, and describe your junk.
The team will give you a 15- to 30-minute heads-up of their arrival time within your scheduled two-hour window. Once at your home, the team does an up-front estimate on the spot. If you like the price, the team can haul the unwanted items away immediately—they'll even clean the area when they're done.
While same-day service can be limited, especially during spring cleaning, you just can't beat same-day service when it's available.
Its donation and recycling practices
Instead of tossing everything into a dumpster or landfill, 1-800-GOT-JUNK? recycles as many items as possible, and it's constantly working to expand its recycling initiatives.
1-800-GOT-JUNK? also goes above and beyond by donating repurposed items to people and charities in need. Certain 1-800-GOT-JUNK? franchises collect used crutches, wheelchairs, and walkers for underserved communities. Other franchises save books from landfills and host yard sales to benefit cancer patients.
This makes 1-800-GOT-JUNK? a great option if you want to dispose responsibly but you're not sure how. The experts at 1-800-GOT-JUNK? know exactly how to safely recycle and dispose of goods, and you won't have to pay extra for the peace of mind that comes from doing your part for planet earth.
Its wide availability
1-800-GOT-JUNK? is available in 44 US states and Washington DC. It's also available in certain parts of Canada and Australia. This wide availability means there's likely a truck already near your home, and you'll probably be able to schedule an appointment immediately to haul your junk away. That sure beats waiting all week for a local hauler to show up for that dingy sofa or pile of renovation debris.