With over 21,000 sites in all 50 states and ten Canadian provinces, U-Haul is among the most well-known brands of truck rentals in North America. Established in 1945 as a one-stop-shop for do-it-yourself movers, the business saw an increasing need for one-way truck rentals, which would make interstate relocation more convenient and cost-effective.
Prior to actually deciding whether U-Haul is the right choice for you, as with any moving service, you should do a lot of studies. While the company has a large number of locations and a diverse range of trailer rental and sizes, whether it is the right option for you will be determined by the total distances you need to drive.
Keep in mind that U-Haul also charges extra fees that can significantly increase the cost. This doesn't rule out the possibility of a great deal—especially when compared to their competitors—but it does stress the value of carefully reviewing all of the information before making a reservation.
Want them to help with your move?
To take advantage of this offer, go to the U-Haul page and enter your starting and ending addresses, as well as the date and time you need service. Allowing you to sort by price, ranking, and services to find the best match.
Pros:
21,000+ locations
Multiple sizes of trucks and trailers available
Offers one-way moves
Competitive low pricing
Easy online reservations
No deposit required
Cons:
No guaranteed reservations, so what you want might not be what you get
No unlimited mileage
May face hidden fees
U-Haul PRICING
U-Haul is well-known for being a budget-friendly choice, especially for one-way long-distance moves.
Local moves are charged a flat rate for the truck rental plus a per-mile fee of around $1 per mile (maybe more or less based on location and truck size).
Also, Read: U-Haul Money Saving Tips and More
Long-distance movements are charged a flat rate for the truck rental (which requires a fixed mileage allowance after which you'll be charged $0.40 per mile), with fees varying depending on the point of origin, destination, and moving date.
Some Fess that might be included in your total cost:
Fuel Cost
Taxes
Damage protection fee
Environmental Fee

We compared the costs of a local, long-distance, and interstate move with a couple of their trucks to help you make sense of it all. The tables below display how much you can expect to pay depending on the size of truck you rent, the distance you're going, and a $3.00 per mile fuel rate. We used the SafeMove damage security cost that was quoted to us for one-way transfers. SafeMove Plus was around $100 more per transfer than SafeMove.
Want them to help with your move?
To take advantage of this offer, go to the U-Haul page and enter your starting and ending addresses, as well as the date and time you need service. Allowing you to sort by price, ranking, and services to find the best match.
15-foot truck

26-foot Truck

Bear in mind that liability compensation is an extra cost; most car insurance, renter's insurance, and homeowner's insurance policies will not cover the truck or your belongings during the transfer. Although it is an extra charge to add to your overall U-Haul rental bill, it can save you hundreds or thousands of dollars in the long run if harm happens, so it's generally a good thing to have.
If you're using extra materials like a dolly or moving blankets, expect to pay more, and don't forget that taxes will add to the cost.
ROUND TRIP OR ONE WAY?
On the surface, U-fixed-rate Haul's local move choices seem to be a good deal. However, as you can see from the table above, the round trip option does not cost $19.95, $29.95, or $39.95. The per-mile charge will easily add up, and you can end up paying more than you would with a rival who includes miles in their base rate for local moves.
One-way moves with U-Haul, on the other hand, can be well worth it. You'll still pay more than the cost of the truck rental, but U-Haul also outperforms its rivals whenever it comes to long-distance DIY drives, as long as you remain under the generous mileage allowance.
SIZES AND DIMENSIONS
You get to choose from seven different truck sizes at U-Haul. The freight van and pick-up truck options are only available for round-trip transfers. Similarly, the 17-foot and 24-foot trucks may not be as popular as the others. When we were getting quotes for our moves, we weren't given these trucks as an option, but depending on where you live, you may be able to get them.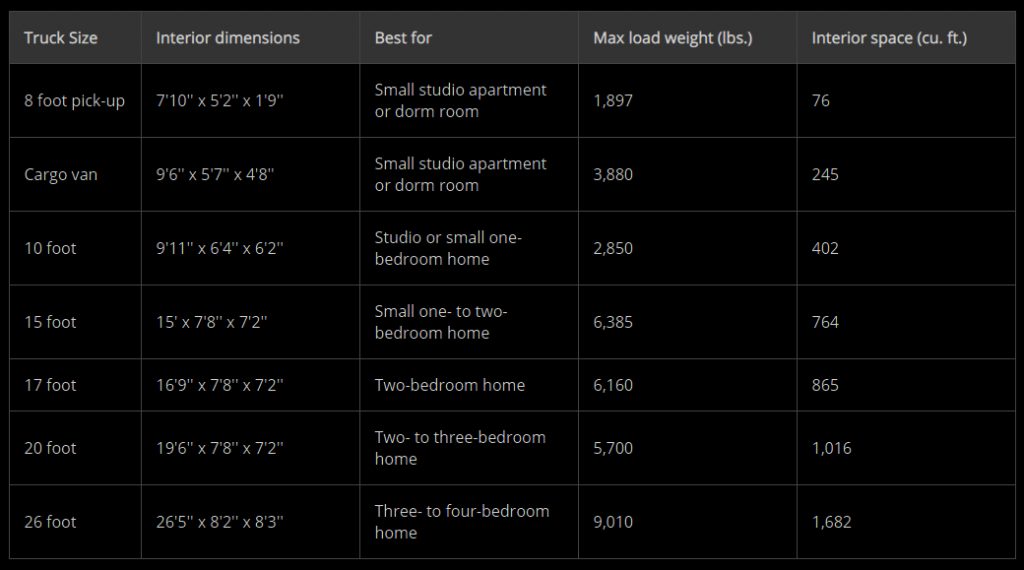 How Many Miles Per Gallon do U-Haul Trucks Get?
U-Haul trucks are not quite as fuel effective as a sedan or even an SUV, but the leasing company does specify how many miles per gallon each of their trucks gets so you know what you're getting into.

You'll need to return your rental truck with the same amount of gas it had when you picked it up, so make sure to plan a stop at the gas station after you unload.
INSURANCE
Your current auto insurance would not include your U-Haul truck rental, so you should seriously consider purchasing extra coverage. Although insurance isn't needed by U-Haul, it's nice to have the extra confidence that comes with thinking you're protected in the event of an accident—especially if you're traveling long distances and will be on the road for a long time.
Safemove — This package protects you and your cargo from most forms of damage to your rental truck (except overhead accidents), as well as cargo losses or damages caused by collisions, fire, windstorms, or the rental vehicle overturning. You and your passengers are both covered by Safemove's medical and life insurance.
Safemove Plus — If you're looking for a little something extra, Safemove Plus may be the way to go. You'll get additional liability coverage up to $1,000,000, as well as exclusion-free coverage, in addition to all of the Safemove provisions listed above (meaning that things like overhead collisions will be covered).
SAFEMOVE VS SAFE MOVE PLUS
SafeMove Plus is around $100 more expensive than the basic SafeMove package. Is it really worth it? The following is a breakdown of the two different plans:
Collision Risk Waiver (CDW) — This form of insurance is only available for U-Haul pickup trucks and freight vans, and it comes with a $150 deduction for most forms of damage.
*Please keep in mind that coverage does not guarantee full payment. When you book your rental and negotiate coverage with your U-Haul representative, make sure you get as much detail as possible about your coverage and your liability in the event of harm or failure.
For an extra charge, U-Haul also provides storage and moving assistance, not only that, but it also provides the best 24-hour access storage unit in the country. Only be prepared to request prices before making a reservation, and compare it to at least two other storage and/or moving companies quotes. And if you have a great deal on a rental vehicle, you'll want to make sure you're having the best deal on these other services.
CAR TRAILERS
Do you need to tow your car when you relocate? Car trailers are available for hire from U-Haul and can be hooked up to your rental truck to transport small to medium-sized vehicles (3,450 to 5,290 pounds). They also have motorcycle trailers available. Car/motorcycle trailers can be hooked up to any U-Haul truck with a 10″ or larger bed and used for both local and long-distance moves.
Tow Dolly
Auto Transport
Motorcycle trailer
utility trailer with ramp
U-Box containers are U-response Haul's to the increasing interest in portable storage and moving containers, and they can be a great choice for you if you wouldn't want to transport your belongings yourself but still want a low-cost transfer.
Here's how they work: Every U-Box container is 95″ long, 56″ wide, and 83.5″ tall, with a total volume of 257 cubic feet and enough space for a room to a room and a half's worth of belongings. Order as many as you need for your move and U-Haul will deliver them to your door, ready to be loaded with your belongings. They'll pick up the U-Box and ship it to your new home once you're finished. You may also pay U-Haul to store your U-Box before you find a suitable location.
U-Box cost: There are four separate costs to consider when you rent a U-Box container from U-Haul:
The container itself, the price of which includes two dozen furniture pads and a month of storage
Delivery to your current location
Transit to your new location
Delivery to your new location
Expect to pay between $50 and $100 per container with monthly storage, $200 for the initial delivery, $1,000 to $3,000 for transit and shipment inside the United States, and $80 for final delivery, for a total of $1,330 to $3,380.
Although a U-Box container is not inexpensive, it can be less costly than employing movers and leasing and driving a moving truck. Just bear in mind that you'll have to load and unload your stuff yourself, and you'll have to pay for extra storage if the time between leaving your current home and needing your belongings shipped to your new home is longer than a month.
U-Haul SELF STORAGE
U-Haul is a well-known truck rental company, and they're also a well-known storage company. It's difficult to say how many warehouses they have across the United States, but we were able to locate nearby facilities in every state we looked in, and their website claims to have the most self-storage coverage in North America.
Safe and secure units
Climate controlled options
24-hour access for customers
Indoor and outdoor storage
Vehicle storage
Business storage
They offer a monthly basis for your convenience for small, medium, and large units. They also offer storage lockers if you only need a small space for small items.
BOXES AND MOVING SUPPLIES
U-Haul also has a good range of packing and shipping supplies in their attempt to be your one-stop-shop for all things DIY moving.
Moving boxes are available in small, medium, and large sizes, with prices ranging from $0.87 to $1.67 per box.
Packing tape, packing paper, and furniture pads are examples of miscellaneous packing materials.
TV covers and love seat covers are among the specialty packaging supplies available.
U-Haul now offers free delivery on shipments of $60 or more when you order packing and transporting supplies online. You can also get a complete refund if you return any unused U-Haul boxes (with receipt) to any U-Haul venue.
Will you want to stop using cardboard? Plastic moving boxes can be rented from U-Haul for a more sustainable and environmentally friendly transfer. U-Haul Ready-To-Go boxes can be grabbed when you need them and returned when you're done, and arrangements can be made right online. Ready-To-Go boxes must be returned to the same spot where they were picked up, so they are only ideal for local transfers. Ready-To-Go box rentals start at $18 for 12 boxes for one week, but you can rent as many (or as few) as you want.
Conclusion
For good purposes, U-Haul is one of the most well-known truck rental firms. The business provides the following services:
There are over 21,000 sites in all 50 states of the United States and all seven provinces of Canada.
A wide range of truck rental rates is available.
High mileage limits on long-distance moves
When you rent with U-Haul, you get the peace of mind that comes with dealing with a company that has been around for a long time and has a long list of good feedback.
When booking with U-Haul, always compare rates and bear in mind some of the factors that may affect whether they're offering the best deal for your move, such as the fact that they charge per-mile for local, round-trip moves and that reservation aren't guaranteed (though they'll always do their best to find you a comparable alternative if your first option isn't available).
If you have any more questions? To see trucks, check availability in your location, and get a free quote, go to uhaul.com.