College Hunks Hauling Junk & Moving offers beginning-to-end convenience for junk removal, local moves, and even some long-distance moves. The company is well-known for its exceptional customer service.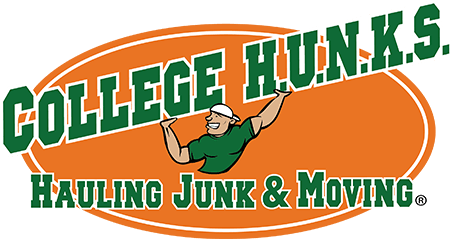 Available in fewer than 40 states
Estimates without obligation
Full-service moving packages
Diverse assortment of additional services
Few interstate moving options
Limited availability
College Hunks Hauling Junk features
College Hunks provides many services standard to large moving companies, but a handful of its offerings are actually pretty unique.
What makes College Hunks unique?
Its full-service junk removal
Its local and long-distance moving options
Its demolition and other hourly labor services
What else does College Hunks offer?
Local and interstate moves
Donation pickups
College student moving
Office moving and corporate relocation
Estate cleanout
Carpet and flooring removal
Mattress and furniture disposal
Cleanup services
Home staging
Junk donation and recycling
Packing and unpacking
Loading and unloading
College Hunks Hauling Junk pricing
Full-service moving prices
College Hunks doesn't list base prices for its moving services on its website—and pricing varies from location to location—so getting a clear idea of what your move will cost is tricky. However, there is plenty of information about what factors go into College Hunks' prices, and these can give you a general sense of how your move will add up.
These factors can be broken down into two main categories:
Truck and travel fees
An hourly rate
Truck and travel fees
College Hunks' truck and travel fees account for your truck rental, time spent driving, and the price of gas used up during the drive. These fees also include charges for any equipment (dollies, straps, etc.) that the moving crew uses to pack and move your stuff.
The hourly rate
College Hunks' hourly rate for its services varies between franchises. In other words, your rate is based on where you are. It generally will include a two- or three-hour minimum, and once you hit that amount of time, your rate gets prorated in either 15- or 30-minute increments.
Your time doesn't start running until the Hunks arrive and begin loading your truck. It ends when the Hunks finish their work at the move-in destination and have you sign the paperwork.
Time spent navigating elevators and stairs can also increase your price, so be sure to account for them when you're budgeting.
Junk removal prices
College Hunks' prices vary depending on service and location, just like any other moving company. We can help you get a rough idea of what moving or junk removal with College Hunks might cost you, but you'll need to request a quote to get an accurate estimate.
| Load size | Average cost |
| --- | --- |
| Full truck | $590 |
| Half truck | $370 |
| Sofa | $160 |
| Fridge | $110 |
Data as of 5/1/19. Prices and availability may vary by location and are subject to change.
Junk removal pricing is determined by how much space your junk takes up in a College Hunks truck. Like moving prices, junk removal prices vary based on location, so the total cost for your junk removal project will probably be a little bit different from the averages we obtained.
Want to compare prices?
After you get the estimate for your junk removal project, you can compare it to average junk removal prices from other companies.
Getting a quote
Getting a quote for junk removal with College Hunks works the exact same way as getting a quote for a move. You can either ask for an online estimate or call a company representative to describe your specific needs. Prices often boil down to how much space your stuff takes up in the truck, and how long the Hunks work.
College Hunks Hauling Junk services
College Hunks' junk removal
College Hunks' junk removal services are what really make it stand out from other moving companies. This service is so important that the company includes it in its name.
With College Hunks' full-service junk removal, you can bid farewell to renovation debris, old mattresses, disintegrating furniture, and other clutter without lifting a finger. Simply point out what you want removed, then sit back and relax while the Hunks load it into their truck.
Here are some of the most common junk removal jobs that College Hunks can help you with:
Garage, attic, and basement cleanup
Appliance removal
Furniture removal
Hot tub removal
Mattress disposal and removal
The company can also help you donate any useful items (like a working fridge or a box of clothes) that you don't need anymore. When you meet with your College Hunks representative, be sure to ask them about donation.
That's one less thing you have to think about in the middle of your move, renovation, or spring clean.
Fun fact
More than 70% of the junk that College Hunks collects gets recycled or donated, so you can rest easy knowing that at least some of your old stuff will be put to good use instead of rusting away in a landfill.
College Hunks' demolition and labor services
When someone mentions demolition, do you think of a wrecking ball destroying a skyscraper? Us too. It's very fun to watch, but probably not something you want to see happen to your home.
But if you're remodeling your kitchen, renovating your master bedroom, or turning your den into an open-concept living room, then small-scale demolition with hammers, crowbars, and saws is an important first step you might want some help with.
College Hunks can start your project off on the right foot by demolishing and clearing out different parts of your home:
Decks and patios
Walls
Kitchens
Cabinets
Carpet and flooring
Bathrooms
Sheds
Playsets
College Hunks charges an hourly rate for these services, and the prices change from one location to another. If you need to demolish something we haven't listed, ask your College Hunks representative if the Hunks can still help you out.
Other hourly labor
College Hunks can also help you with nearly any hard project you're doing around your home, including packing and unpacking before your move, carrying heavy boxes upstairs, rearranging your furniture, and staging your living space. You'll pay an hourly rate for any work the Hunks do.