Moving to a new city is a difficult task in and of itself, but moving to a new city alone will present an even greater challenge.
The increased difficulty stems not only from the fact that you will be organizing a house move without the help of trusted friends and family – the true challenge will come when you step out of your comfort zone on your own and then move to a new environment where you don't know anyone.
Need Moving Services?
Here are the best moving companies you can trust;
Xfinity Moving
College Hunk
Two Men and a Truck
All My Sons Moving and Storage
U-Haul
College Hunk
Portable On Demands
Budget Truck Rental
1-800-PACK-RAT
Penske
Best Interstate Moving + Storage
Remember that the best way to deal with moving to a new city on your own is to be well prepared for what's ahead. And the goal of this guide to relocating to a new city is to assist you in making all of the right decisions along the way.
Don't overlook these pointers for moving to a new city on your own.
Make the decision to relocate to a new city for the right reasons
Moving to a new city on your own is a big step, and the first thing you should do is make sure you're doing it for the right reasons.
Sometimes you just know when it's time for a big change – you just feel it inside and there's nothing that can stop you from getting where you want or need to go. However, identifying the signs that it is time to relocate to a new city can be difficult at times.
The most common reason for moving to a different city on your own is for work, usually to find a job or advance your career. Another compelling reason to relocate to a new town or city is the lower cost of living in the new location. In fact, relocating to a less expensive city can help you stretch your disposable income further.
Finally, regardless of the specific reasons for your decision to relocate to a new city on your own, you should ensure that those reasons are well justified.
Determine whether you can afford to relocate to a new city
When you've decided to relocate, very few things can stop you from packing your belongings and moving to a new city. Unfortunately, one of those things is a lack of funds to cover the moving costs.
Understandably, there will be many things to do when moving to a new city, but the most important task is to create a moving budget and determine whether you have enough money to relocate.
Also Read: How to Move on a Tight Budget?
So, how much does it cost to relocate to a new city?
Request cost estimates from low-cost cross-country movers and compare their price offers.
Compare various city-to-city movers by verifying their legal status (USDOT numbers), online reputation (moving reviews), and professional integrity.
Select the most affordable quote in terms of cost, but pay close attention to the additional services and general terms included in the quotes.
If your budget check confirm that you still don't have enough money to make that house move a reality, it's time to reconsider the need to leave right away. Perhaps you can postpone your move to a new city until you have saved enough money?
Save money when relocating to a new city
When moving to a new city on your own, one of your goals should be to save as much money as possible.
Without a partner to share the moving expenses, you'll need to take advantage of every opportunity to cut moving costs so that your budget can take the hit without serious consequences.
To save money when relocating to a new city on your own,
Pack your own belongings to save money. Why pay for professional packing services when you can pack most or all of your belongings yourself? You can do a good job packing things like books and clothes if you give yourself enough time. However, when it comes to special items like a piano moving, a grandfather clock, an antique furniture piece, and so on, it is best to rely on professionals.
Also Read: How to Properly Secure your Furniture while Moving
Use other tried-and-true methods to cut moving costs, such as obtaining free moving boxes for your packing needs and enlisting the help of friends to pack and move you, eliminating the need to hire professional labor.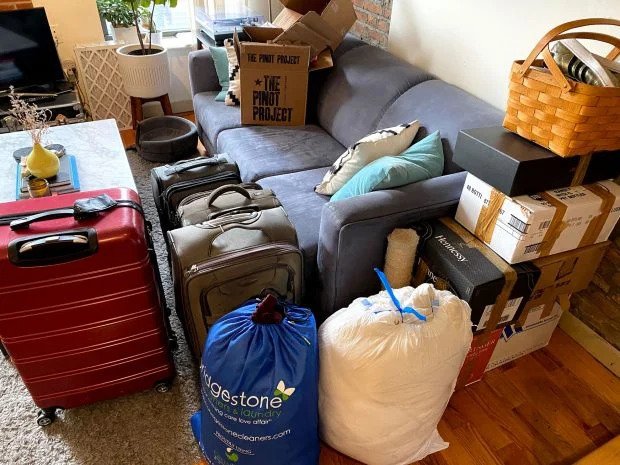 Plan the ideal new-city relocation
Moving to a new city on your own at first boils down to planning and organizing a relatively stress-free move with no major blunders on your part. With no family members to assist you during the preparation period, you can either rely on good friends or professionals with years of move-related experience (professional movers).
Organizing a successful house move will set the tone for what is to come when you arrive at your destination. To manage the time you have until moving day, it is strongly advised that you use a good moving checklist – a detailed list of things to do when moving to a new city.
To reduce stress, hire city-to-city movers. It is never easy to plan a move to a new city. Transferring relocation stress to people who know how to handle it is a great way to reduce the infamous stress of moving house. Hire low-cost movers who provide high-quality services.
CHANGE your USPS postal address, transfer your home utilities, and cancel any subscriptions and delivery services.
VISIT YOUR DOCTOR to obtain your medical records and possibly recommendations for a new doctor in your new city.
Get a job and focus on your work
Moving to a new city alone can be especially difficult if you don't know anyone. A strange place full of strangers is not your ideal relocation scenario, but it is possible to make it work in the end.
Above all, you need to find a job in the new city as soon as possible so that you can have a steady income to pay the rent and bills and put food on the table. The money from your job will provide you with peace of mind and security, but having a good job will provide you with much more.
Also Read: Perfect Way to Get a Job to Another City Before Moving
Having too much free time on your hands when you first move to a new city can be a bad idea. One good way to deal with moving to a new city alone is to keep yourself busy during the day so that you don't have too much time to think about how lonely you are. Work to keep your mind occupied in order to keep any sad thoughts at bay.
Furthermore, constant interaction with coworkers, business partners, or clients will benefit you.
Maintain a good budget after moving to a new city on your own
Switching into Economical Mode immediately after the move is over is a good way to survive moving to a new city. This is critical because how you manage your post-relocation budget will influence how well you adjust to the drastic change and adapt to your new surroundings.
One costly mistake you should avoid at all costs is rushing to the stores the day after moving day to buy a slew of items for the new house that you may never use. Resist the urge to go shopping without first carefully analyzing your current financial situation and making a list of the things you truly need to buy.
Be careful with your money!
Be a wise shopper and look for deals, sales, and even coupons to cut your expenses, at least until you figure out how things work in your new city. If at all possible, try to reduce your transportation costs by using less expensive modes of transportation in and around the new location. For example, it could turn out that taking public transportation is a more cost-effective option than driving your own car.
Call now for a free moving quote

Related Articles: