Tips That Will Help You Plan an Interstate Move: All relocation necessitates meticulous planning, and interstate moves are no exception. You'll need to consider everything from how you'll transport your stuff to who you'll need to tell about your new address, as well as a slew of other factors in between. We've put together this short and comprehensive guide to interstate moving to help you connect the dots. It includes everything you need to know for a seamless transfer to another state, as well as suggestions and advice along the way to make it as stress-free as possible.
Make a decision on where you want to live
Finding a place to live in your new city or town is one of the most challenging aspects of interstate moves, as you won't be able to go out apartment or house hunting in person. We recommend working with a local agent who is knowledgeable about the area and can assist guide you in the correct way, whether you're renting or buying.
Start your search early to provide yourself ample time to investigate and evaluate your possibilities, and be on the lookout for rental scams. Scammers prey on people looking for homes from out of state because they're more inclined to send money before seeing a property. Working with a real estate or rental agency is essential for this reason.
Are you afraid of renting or buying a home without seeing it first? If you can't get out for a visit before signing the dotted line, consider a short-term rental and then make a more permanent decision once you've moved in.
Make a moving budget
Without asking you to take a step back and dive into your budget, no guide on interstate moving would be complete. Moving to a new state isn't inexpensive, so it's crucial to set your budget expectations ahead of time to avoid any unpleasant shocks.
To obtain an idea of how much your interstate relocation might cost, use our moving cost calculator. Also, when making a budget, don't forget to include in all of the extra expenses you'll have to add to your total. These are some of them:
Packing supplies
Packing services
Liability coverage/supplemental insurance
Travel fees
Storage fees
As a general rule, the more items you have to transport, the more money your relocation will cost. This is true whether you hire a professional moving company or drive a rental truck yourself. Consider moving with fewer people if you need to save money. Donating, selling, and/or responsibly disposing of items you no longer want or need—or those that will simply be cheaper to acquire once you're in your new state—is a good method to save costs and make your interstate relocation more cost-effective.
Related : Moving To Another State This 2021? Here's What To Consider
Determine the logistics of transportation
The way you select to move yourself and your belongings are primarily determined by the moving budget you've set. Based on transferring the goods of a two or three-bedroom house 1,000 miles, the average cost of hiring professional movers for an interstate relocation is $4,890. (By comparison, the average cost of a local move is approximately a third of that, at $1,250.)
Do you prefer to do things yourself? Renting a moving truck for your interstate relocation will save you a lot of money—about $1,700 for a 10 foot U-Haul truck going from New York to Miami, depending on who you rent from and what (if any) specials you can get. To find out what trucks are available and how much they cost in your location, use our truck rental center.
Moving containers are another wonderful choice since they allow you to pack and ship your belongings for a fraction of the cost of hiring a moving company. They're more expensive than rental trucks, with an average cost of just over $2,200, and you'll have to pay for your own travel accommodations separately, but if you want to save money on your move and avoid driving a moving truck across the country, this is a terrific offer.
Related: Why You Should Hire a Moving Company
Prepare a packing list
When it comes to packing for your interstate relocation, there's no time to spare because you won't be able to dash back and forth to get your belongings from point A to point B. You'll need to make sure that everything is packed and ready to go on moving day, and that you've sold, discarded, or donated whatever you don't intend to bring.
Begin by gathering all of your packing materials. Figure out what you'll need, such as boxes, tape, and packing paper, and we always recommend buying a little more than you think you'll need, it's far easier to find a purpose for additional goods than it is to make numerous visits to the shop.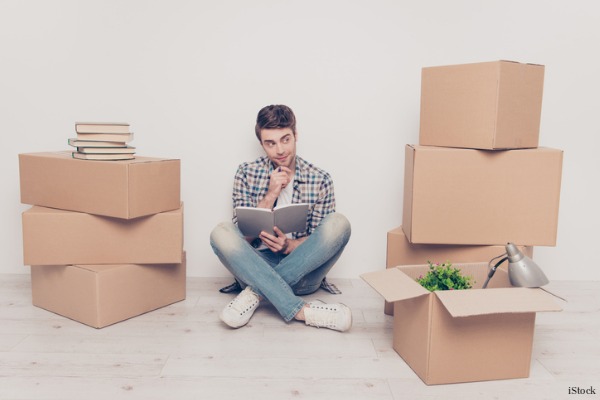 Also, bring an essentials bag with you, containing all of the items you know you'll need quick access to before and after your relocation. This is a useful idea for local moves and an absolute must for interstate moves. Important documents, prescriptions, chargers, basic toiletries, and a couple of changes of clothes should all be included in your basics bag. If you're traveling with dogs or children, make sure each of them has its own basics bag as well.
Organize Your Utilities
Before moving day, you'll want to cancel your current utilities and set up your new ones. While you can usually transfer utilities from one home to the next, interstate moves are a little more tricky. Many utility providers are region-specific, which means that the electric, gas, water, and other services you use in your present home might not be available in the state you're relocating to.
Perform some basic research to see what is and is not available. You'll need to do some study into your new service options for those utilities that you'll have to cancel. Discuss local utility services with your real estate agent or soon-to-be new landlord, then search up pricing and schedule installation dates using your new address. In the meantime, phone your present utility company and let them know when you'll need to stop service—just make sure you leave enough electricity and heat or air conditioning for the day you move out.
When it comes to the internet and television, you may find it easier to transfer these services than other sorts of utilities. However, even for the same bundles, pricing might vary substantially depending on location among different types of providers. Make some price comparisons to ensure you don't go over budget.
Inform the Post Office
Set up your new address with the US Post Office using our instructions to change your address. This should be done before you move so that your mail is forwarded from the start.
In addition to notifying the post office, you'll need to notify a few others, including your bank and credit card company, loan providers, insurance providers, and anyone with whom you have set up automatic payments. Make sure to inform your friends and relatives. Learn more: Moving Guide: Who to Notify When You Move?
Moving Day
With all of the various pieces in place, it's time to actually hit the road (or the sky). If you're driving, check the weather carefully and plan out your entire route ahead of time so that you have a general idea of what to expect. Account for stops for things like food and rest, and don't try to do too much too fast. Figure that you'll be able to do about 8 to 10 hours of driving a day, keeping in mind that it's okay to go slower and see the sights along the way.
Update Your Vehicle Registration and Get a New Driver's License
The majority of the hard work is done once you've arrived in your new state, but there are still a few items on your to-do list. After proving residency, some jurisdictions offer you up to two months to get a new driver's license and renew your vehicle's registration, while others require you to do it sooner. Some even demand that you finish it right away. Make sure you understand what your new state requires so you can file all of your papers and become a legal resident.
Ready To Relocate?

Related Articles: