How Much Does It Cost to Move from California to Florida: If you're searching for a change of pace and scenery, Florida may appear to be a more appealing option than living in California. An area with a lower unemployment rate signals a better working environment for job seekers, while residents can budget much more easily due to a cheaper cost of living.
Living expenses
The cost of living in Florida is in line with the national average, while the cost of living in California is consistently roughly 50% higher. Other amenities in both states are reasonably priced, except for housing. In both locations, grocery stores, utilities, and health care are all average.
Climate & Weather
The weather patterns and zones in California are significantly more diversified than what you'll find in your new house. Florida's climate is nearly solely humid subtropical, but California's climate ranges from desert to alpine. A warm and moist winter follows the long, hot, and humid summers.
Various Activities to Take Part In
Every year, tourists swarm both California and Florida, and for good reason. Many of the state's attractions include many national and state parks, Hollywood, and more than 800 miles of beaches.
Florida, for example, has almost 1,300 miles of coastline, including the beaches of the Gulf Coast and the Keys. The nightlife, fine dining, and culture of the cities are well-known, while the many theme parks and resorts are easily accessible for more family-friendly entertainment.
Culture & Lifestyle
Florida and California are comparable in that they both have large immigrant populations that have affected their culture in significant ways. This is especially true in urban regions, which have a different temperament and mentality than rural places.
Both states are regarded as more laid-back resorts with a plethora of attractions for tourists. Long-term inhabitants, on the other hand, can make use of both. You should prepare for a much more heated election season than you're used to in terms of politics. With a stark urban-rural divide, Florida is a battlefield state. This could have an impact on where you choose to reside, depending on your beliefs.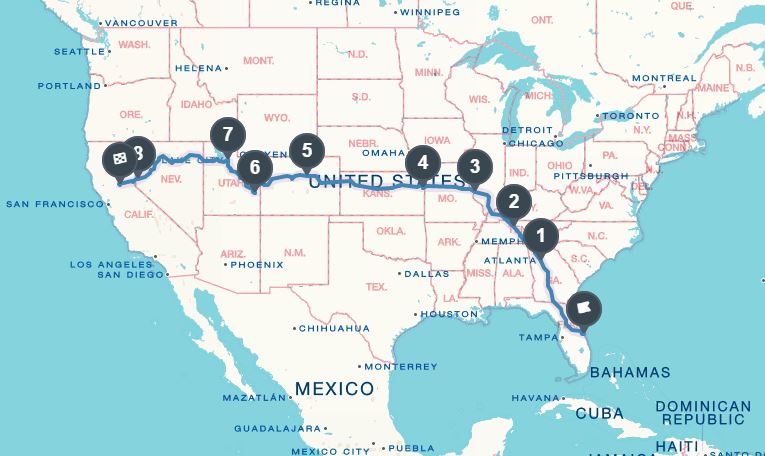 Related: Important Things to Know Moving to Orlando, Florida
Existing Job Openings
You'll be shifting between two prospering states when you move from California to Florida. Every year, Florida's gross state product exceeds a trillion dollars. Trade and transportation are two of Florida's most important industries, due to the high volume of local and international commerce that passes through its ports. In most areas of the state, they, together with healthcare, hospitality and tourism, and education, provide lots of job possibilities.
Housing Costs
The cost of housing in Florida is substantially lower than in California. California's housing costs are 139 percent higher than the national average, whereas the Sunshine State's housing costs are only 2% higher than the national average.
The typical rent in Florida is $1,266, while the median cost of property is $235,913. When compared to California's rent of $1,615 and homeownership of $589,890, this is a bargain. It is true that Florida's median household income is $22,000 lower than that of the state of California, but the benefits of lower housing prices cannot be emphasized.
What is the cost of moving from California to Florida?
The following moving costs are based on a 3,000-mile journey from Sacramento, California, to Orlando, Florida.
Average Moving Costs
The prices shown here are averages based on real-time data from our top moving companies. You should collect as many quotations as possible from as many movers as possible before making a booking with any moving company. You'll be able to better assess your movers if you do this.
If you choose to do it yourself, a cross-country move will cost you roughly $1,500 on average. Of course, if you want to hire moving help at both ends, your charges will most certainly be higher.

1 BR Cost
2 BR Cost
3 BR Cost
4 BR Cost
Full-Service Move
$5,100
$6,000
$8,750
$11,250
Moving Container
$2,150
$3,300
$3,650
$4,971
Cost Factors
Your relocation costs are influenced by a variety of factors. The following are a few of the most important ones to keep in mind as you plan your trip.
The criteria that determine your "line-haul charges" for long-distance or interstate moves are the move distance and the weight of the shipment.
Between May and September, the moving season reaches its apex. You may have to pay higher charges if you book a relocation during this time.
Booking a move in advance: If you arrange your move within a week or a few days of your move date, you may be charged a higher fee for convenience.
Add-on services, such as packing, vehicle shipment, or custom crating, can significantly increase the cost of your relocation. These should be taken into account early on in the moving process when determining your budget.
Are you ready to move? Let us help you make your move easily.
Related Articles: