How to Unpack After Moving Across the Country? All you want to do after a long-distance move is unwind and settle into your new home. Unfortunately, one more duty remains unpacking. You may believe that unpacking your possessions will be simple, but this is rarely the case. Most people take months to completely unpack their belongings. This is particularly true when traveling large distances. There are, however, ways to expedite the procedure. Knowing how to unpack the most efficiently following a cross-country relocation will save you time, money, and worries. It's critical to have a plan in place. Otherwise, you'll be stuck in a sea of boxes for months. At WowMover, we offer some pointers on how to make the procedure go more smoothly.
Room by room, unpack your belongings
Your movers can provide you with an estimated arrival time. This is crucial because it will dictate which rooms you unpack first. It's pointless to unpack the kitchen first if your items arrive late at night. Similarly, unpacking your bedroom first thing in the morning will be inconvenient. Also, as soon as your moving van comes, promptly place each box in its designated room. Interstate movers can assist you in getting things ready for unpacking.
When you pack smart, unpacking is a breeze
Being prepared is the best unpacking method when relocating. The simplest way to do this is to pack strategically. Packing by room is the most usual method. Moving boxes should be labeled by room and contents. Also, try doing an inventory of all of your possessions. You can easily keep track of your property this way. Consider how you'll arrange furniture in your new space as well. This should ideally be done months in advance. You'll be stuck moving and rearranging the floor plan for weeks if you don't.
Related: Unpacking Guides: What Essential Items to Unload First When You Moved?
After a cross-country move, the best way to unpack is to plan beforehand
Moving is, as you probably know, a pretty stressful experience. As a result, it is critical to have a detailed plan in place for each and every element. Otherwise, it might rapidly become overpowering. It's no different when it comes to efficiently unpack following a long-distance moving. When moving day arrives, proper planning and study will go a long way. Aside from that, the speed with which you unpack after a long-distance move is influenced by your movers. This is why, before selecting a firm, it's critical to conduct research on interstate moving companies.
After a cross-country move, begin unpacking by tackling the kitchen first
This is the most sensible course of action if your movers arrive in the morning. Begin with the most important stuff. Connect the most crucial appliances, such as the stove, refrigerator, and dishwasher. Having a microwave handy during the initial few days of settling into your new house is also a good idea. You'll most likely be too exhausted to perform any meaningful cooking. Unpack any little appliances that you use on a daily basis as well. Your toaster, juicer, coffee maker, or any other appliance that you use frequently.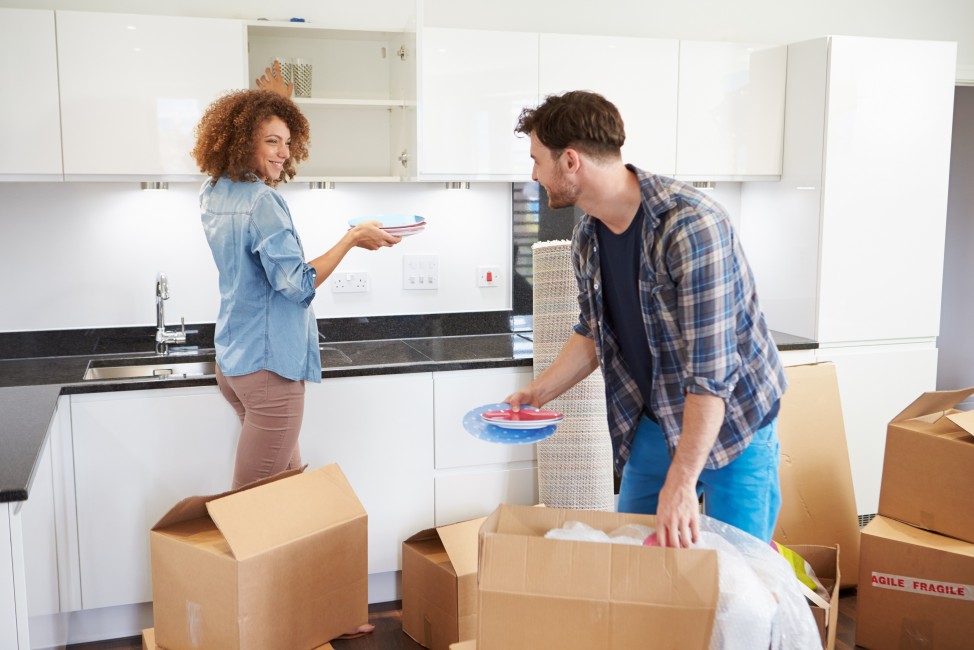 Make the most of the opportunity to clean your house
Consider deep cleaning your home before the moving van arrives. This is an excellent way to unpack quickly because it prepares your home for your possessions. Clean the most important rooms first. Begin with the bedroom, then go on to the bathroom, and finally the kitchen. If you brought the necessary cleaning supplies, it should be simple. It's also a good idea to look for pests, mold, and bugs at this time. It will be easy to identify any problems now that all of the furniture is out of the way.
Related: Moving Checklist 2021: Necessities for Smooth Moving
Proceed to the bathroom
Take care of the bathroom first before moving on to the bedrooms and other living areas. Towels, toothbrushes, paper, toothpaste, and soap are the only things you should do. You can pay attention to the details later. For the time being, simply put everything you require for your everyday routine. If you need to, take a break now; a nice shower will help you relax after all that unpacking.
Next, unpack the bedrooms
You'll need a good night's sleep after a long trip and hours of unloading your possessions. Unpack and put together the bed. If you have children, now is the time to complete theirs. After that, you can start thinking about linens for each bed and some pillows. It will be much easier to get cozy after a long day at work this way. You can even assemble the closet while you're in the bedroom. On the other hand, if that's too much work, you can just pick a location and put it off until another day.
After a cross-country move, finish unpacking by addressing common places
The living room and other common areas should be saved for last. You don't have to unpack them immediately soon because they're significant pieces of your home. It's possible that setting up your couch and television right away will distract you. You should also have a good time designing your living space! Some of our suggestions for spicing up your interior design are included below:
Pillows with vibrant patterns can add a splash of color to any room.
Use a statement wallpaper, paint it a contrasting color, or put some art on an accent wall.
Plants make any space feel cozier.
Look for unique items at local thrift stores.
Interesting wall décor is created by floating bookshelves.
Consider enlisting professional assistance
If you don't want to deal with unpacking, you may always hire expert movers. They'll finish the work faster than you can. Instead of spending months unpacking, you may complete this tiresome chore quickly. If you want to reduce stress following a cross-country move, this might be the best way to unpack. WowMover can put you in touch with some of the greatest movers in the country. With professional movers on your side, settling into a new house will be a lot easier.
Ready to move to Abroad?

Related Articles: