In 1 month, you'll be moving. One month is all you have. How do you prepare for moving in 1 month? As the clock ticks down, tension will rise. You could be in big difficulty with the logistics and administration of your move unless you start planning today. Don't let that happen; take action now! By now, you should have taken care of the following essentials:
Start tossing items away that you won't be moving.
Packing materials were purchased.
Make a reservation with a moving company.
Notified family members and associates of your new address via phone or email.
Notified your bank, credit card company, and other important agencies about your new address.
If you're moving large distances, medical records should be collected.
Handled subscription changes.
If any of the jobs on the list are lingering, complete them as soon as possible because you'll be dealing with a whole new set of tasks as moving day approaches. If you've taken care of all of the above, the next step is to start packing.
Room by room, organize the packing of small items
The secret to effective packing is to arrange your belongings in a specific sequence. Extra linens, blankets, books, and other things that are not used frequently can be placed in the boxes first. Follow this procedure for each area, making sure to label the boxes as you seal them. Making a master list will ensure that you don't forget anything. It will also aid you in unpacking because you will know exactly what is in each box.
After you've completed the initial phase of packing, you may concentrate on the remaining tasks that must be completed before you move.
Also Read : Question To Ask Before Renting An Apartment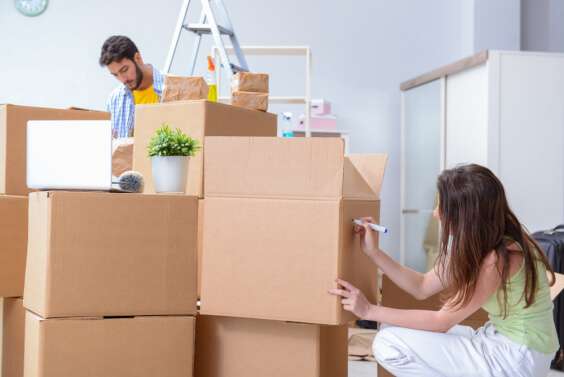 Take Care of Other Required Tasks
If you're renting, let your landlord know when you'll be moving and close all pending accounts and transactions related to the rental, such as utilities and internet bills. If your lease agreement specifies a notice period, make sure you give your landlord plenty of notice to avoid paying extra rent or a portion of it. It's best to send a written notification or an email so that you have proof of the notice in case something goes wrong.
Ensure the safety of your children and pets
Managing children and dogs on the day of the move is one of the most difficult aspects of moving. Movers will want your presence and attention for a variety of reasons, leaving you with little time to devote to your pets and children. The easiest solution to solve the problem is to enlist the help of a trustworthy individual to look after them so that you may better coordinate with the moving organization.
Also Read: How to Help your Kids Make Transition Easier While Moving?
Keep children and pets away from the activity, since the constant movement of people and furniture can be hazardous to them and increase the likelihood of accidents. To avoid tension later, confirm the presence of a responsible person or a caretaker for your dogs and children well before the moving date.
Shop for Packaging Essentials
Do you need to buy packing supplies before you start packing? Calculate how many moving boxes and what sizes you'll need, as well as other moving goods, and get them immediately. Running about looking for things at the last minute can add to your stress. Make a list of the items you'll need to pack all of your stuff efficiently, so you can purchase them all at once and prevent numerous trips to the store.
Make yourself available for the duration of the relocation, as the movers will require your guidance. Make sure nothing has been left behind before the truck leaves with your possessions. You should ideally be at your new home when the movers arrive to supervise unloading so that you may arrange the furniture precisely how you want it. Good luck, and don't forget to stay stress-free by being proactive and taking at least one step toward planning today!
Related Articles: