It is never a pleasurable process to relocate cross-country. Many of us have an enormous motorcycle that we need to transport, and transporting them isn't as simple as stuffing them into the trunk of a car.
This includes the transportation of a motorcycle. While you might assume it'd be more enjoyable to just drive, this isn't always possible. You probably need to drive a car, moving truck, or other vehicle, so it's not practical to return merely to ride your motorcycle to your destination. Perhaps the motorcycle doesn't even start.
You have a few alternatives when it comes to transport a motorcycle cross-country. Continue reading to learn how to transport your motorcycle safely and effectively.
Using a Common Carrier
It's acceptable to send regular packages via UPS or FedEx, but it's not the safest option for transport a motorcycle cross-country. These staff have never been taught how to ride a motorcycle properly. Forklifts are frequently used to transport products, and the prongs might damage your motorcycle.
Furthermore, loaders and drivers are not always as cautious as they should be. They may drop or mishandle packages, resulting in your motorcycle breaking. Choose a professional motorcycle shipping company instead of this option.
Using a Pickup Truck to Transport a Motorcycle
Many individuals transport motorcycles in this manner. However, loading and securing the motorcycle is a task that does not always go easily. Because motorcycles can weigh hundreds of pounds, loading one oneself may not be as simple as you think.
Moving a motorcycle in a pickup truck necessitates enlisting the assistance of a friend or two. You'll need to either pull it up or use a ramp to load it. Put your motorcycle in neutral when using a ramp. Once the motorcycle is in the pickup, you'll need to secure it using ropes and bungee cords. Put the motorcycle in first gear before you leave.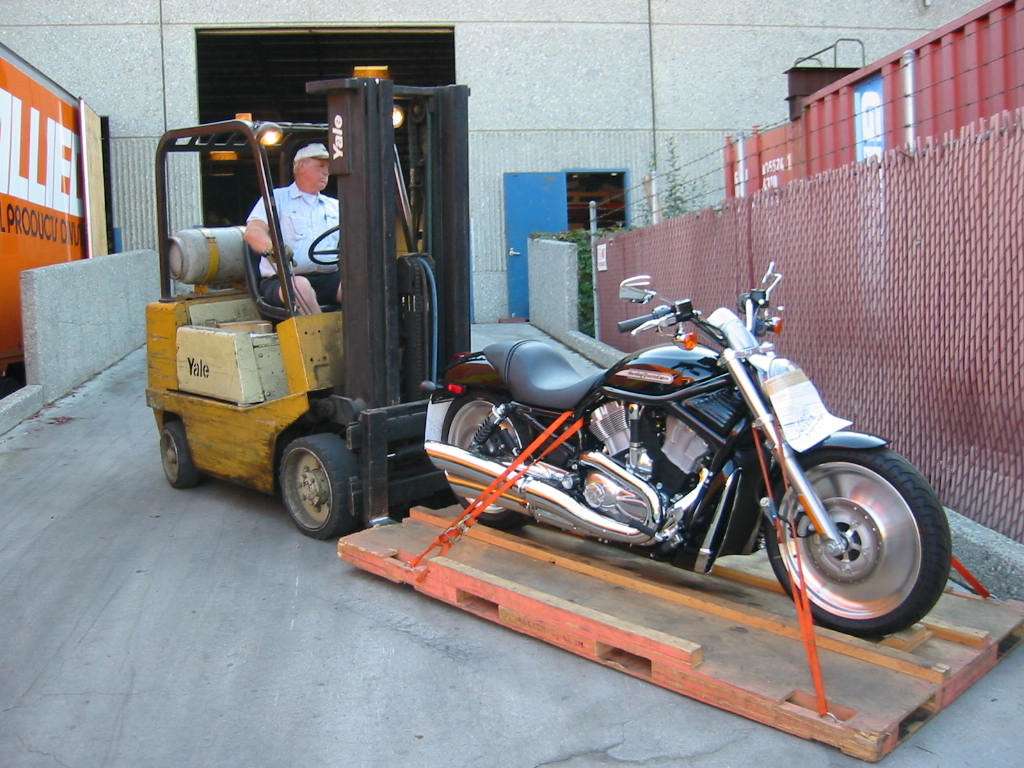 While this may appear to be a simple task, you and your buddies are unlikely to be specialists in motorbike transportation. Your bike may be damaged if you make a single mistake. During the move, it's possible that your motorcycle will slide or possibly tumble over. If you're hauling anything else on your motorcycle, it's possible that it'll get harmed as well.
In a Moving Truck or on a Trailer
Loading and unloading your motorcycle will be much easier because moving trucks and trailers frequently include ramps. The difficult part would be keeping your motorcycle secure while transporting it across the country. Once again, one false action could result in serious harm to your motorcycle. Furthermore, leaving your motorcycle out in the open during a long journey exposes it to rain, snow, wind, and other elements, which can cause damage.
Using a Motorcycle Shipping Company
Using a motorcycle shipping business to move a motorcycle is the most expensive choice, but it's well worth the money when you consider the piece of mind you'll receive. Motorcycle shipping companies are specialists at transporting automobiles and will ensure that your motorcycle arrives safely at its destination.
Follow these guidelines when hiring a motorcycle shipping company:
Confirm that the company will be able to access your motorcycle when it comes time to pick it up.
Your motorcycle will be loaded and transported by the driver.
When your motorcycle is expected to arrive, you will be alerted.
Your motorcycle will be delivered safely on the day of your arrival.
Get quotations from a few different companies.
Sign a contract and arrange for the pickup of your motorcycle.
Contact WowMover Today
You could be worried about your cross-country vacation, especially if you're worried about properly transporting your motorcycle. Contact Wowmover if you need assistance moving a motorcycle. To assist you in getting all of your goods to your destination, we provide vehicle transportation and other moving services.
To receive a free moving quote, please contact us at (844)-858-1971
Related Articles: