There are a variety of reasons why you might need to store your belongings when moving. Perhaps you're relocating from your previous residence before the new one is ready. Perhaps you're downsizing or have recently acquired furniture from a relative and want to store it for when your child moves out. Whatever your purpose for renting storage, there are a few things you should know.
Your moving company can give storage solutions if your household items need to be stored between moving out and relocating into your new home. Inquire with your movers and request a price. Even though it costs a little more to use their service, the convenience of having the movers bring your goods directly from your home to the storage facility may be worth the extra money. If this is an option, be sure to inquire about if you have access to your belongings and, if so, what type of notice is required. Investigate their storage facilities as thoroughly as you would any other organization.
Before Renting Space, Declutter and Downsize
So you need a storage space, but before you start looking into the various options, ask yourself the following questions:
Do you really need to store everything you have?
Would you miss the stuff if you got rid of it?
How long has it been since you've used it? (If you can't answer this, it's generally best to toss it!)
Is there any sentimental or monetary value attached to it?
Before you begin packing, you should ask yourself these questions. Sorting, trimming down, and selling are the keys of any successful transfer. If you are unable to sell it, consider donating it.
Decide Which Things You are Storing
Then there's the question of what you're storing. Wine, boats, and automobiles, for example, all require specific storage. If you're preserving valuable documents, you might want to inquire about climate-control options. Just bear in mind that climate-controlled storage is more expensive, but it will protect your valuables from temperature variations. So, before you start phoning firms, figure out which objects will be stored, take inventory, prepare a list, and have this information ready.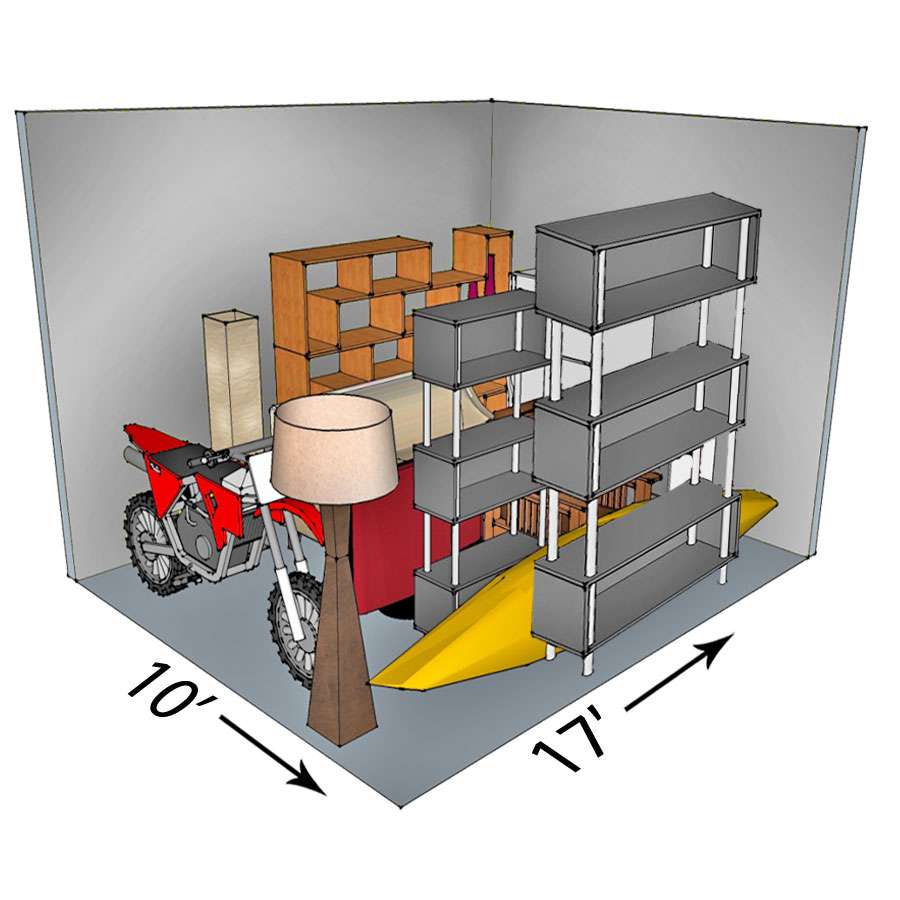 Know How Much Space Will You Need
Now that you know how much and what kind of items you'll need to keep, you'll need to figure out what size storage unit you'll need. Although most companies can accommodate what you require by changing moveable partitions, the information presented below is fairly common for most companies. Note that the measures below are in feet and are written as L x W x H.
5 x 5 x 10 = Small items, boxes, books, etc…
5 x 10 x 10 = Small 1 bedroom home
10 x 10 x 10 = 1 bedroom home
10 x 15 x 10 = 2 to 3 bedroom home
10 x 20 x 10 = 3 to 4 bedroom home
10 x 30 x 10 = 5 to 7 bedroom home
How to Assess A Good Storage Facility?
Do your homework. You want to know that your belongings are in good hands, just like when you hire a moving company. Renting storage, unlike hiring movers, is commonly utilized at your location. It can be more challenging to plan. If you've hired a moving company, it's a good idea to have them make a second stop at the storage facility so you don't have to move again. Simply identify storage items properly and load them in a group, either first or last, depending on when the truck will unload at the storage facility.
You can also inquire about the crime rate in the area where the institution is located at the local police station. Check to see if there have been any break-ins or reports of concerns. It's crucial knowledge, particularly if you're going to a new city or town and aren't familiar with the area.
If you're moving into a rental, ask your landlord or the real estate agent that assisted you in acquiring your new property. Larger real estate firms have offices all over the country and can usually recommend you to a different area.
Final Thoughts
Basic information can be provided over the phone regardless of where the storage facility is located. You can inquire about the size, cost, climate control, and your ability to get to your belongings when necessary. Make an appointment with your top three companies if you can take a tour of their facilities in person. If this isn't possible, develop a list of questions to ask the company so you can make an informed selection before renting that storage.
Also Read: