How to Safely Share the Road With Large Moving Trucks? Americans benefit from a huge selection of fresh food and items brought right to their neighborhood stores, thanks to hardworking and tenacious truck drivers. Trucks are also the principal form of transportation for the moving industry, which moves millions of people across the United States each year.
However, keeping things moving necessitates long-distance moving travel in semi-trucks and other large vehicles with certain operating constraints. Long stopping distances, broad curves, and blind spots generated by a truck's vast size are among them. Other drivers may not be aware of these issues, while truckers are. See our suggestions for navigating the road safely when driving near trucks.
Be Wary of Wide Turns
Trucks, due to their size, require more space when turning. As a result, if you notice a truck's turn signal turned on, don't try to squeeze between the vehicle and the curb. Because part of the truck's trailer may come into your lane, you could get into difficulty. Remember that trucks swing wide and may begin a turn in the middle lane rather than the far right. Learn more: What to Consider Before Renting a Moving Truck
Also Read: Two Men And A Truck Moving Rates, and Cost for 2021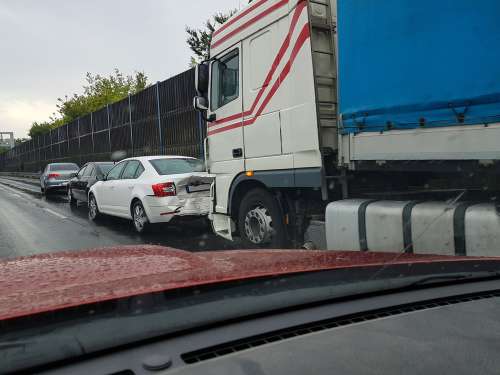 Keep your Eyes Peeled for Blind Spots
Avoid driving in the blind zones of a huge truck, often known as No Zones. These are vast zones positioned surrounding the vehicle's front, back, and sides. To keep visible, slow down or move ahead rather than driving in a blind area. If you can't see the driver in the truck's side mirror, you can presume they can't see you, too. When merging near a truck, be particularly cautious because you may be in a blind spot.
Don't Tailgate
On many levels, driving too close to a truck is a bad decision. For one thing, you'll be in the truck's blind spot, which means they won't notice you. Also, because these trucks are so high off the ground, if you don't stop in time, you may end yourself sliding under the truck. The consequences could be fatal. Also, even when stopped, remember to allow vehicles plenty of room. This is especially crucial while upgrading because they have the option to roll back.
Proceed with Caution
Passing another vehicle safely is always crucial, but it is especially true for large trucks, which, due to their weight and size, cannot stop as quickly as passenger vehicles. Before passing, make sure you can see the truck driver in your rearview mirror and always signal clearly and in advance. To get past the truck safely and quickly, get into the left lane and speed. Before pulling in front of the truck, make sure there is plenty of room between you and the truck. Before going into their lane, check to see if you can see the truck in your rearview mirror. Passing trucks and buses on a downgrade where they tend to pick up speed is also a bad idea.
Also Read: U-Haul Truck Rental: 2021 Review
Don't Cut it Too Close
Allow plenty of space between you and the truck while passing before moving back into the lane in front of it. Keep in mind that trucks take longer to stop than passenger cars. You may be in a blind area if you move in too quickly from either side, and the driver may not notice you in time. If the motorist cuts it too close, he or she may not be able to slow down quickly enough to avoid a collision.
Related Articles: