Is your new place ready for a pet? Pets are cuddly, adorable, and will bring you a lot of joy, but they do come with their own set of issues. Let's talk about how you can pet-proof your new home so that you and your new best friend have the finest possible environment. The process of pet-proof a home is similar to that of childproofing a home. You'll want to have all of the things you'll need for a new puppy on hand, as well as take precautions to keep them safe in your home.
Pet Supplies
Crate for Pets – Enclosed areas provide a safe haven for your dog to relax and rest. Small places are automatically sought by dogs in order to build safe havens for themselves. A pet crate is another important tool for housetraining your puppy. Because dogs dislike soiling their sleeping quarters, they learn to contain their bladder when in their kennel. When you are unable to oversee your curious puppy, the crates will keep them safe. Just make sure to pet-proof your new home with a crate that has a pet bed or cushioning for added comfort.
Pet Gates – You can use a gate to separate an entire room dedicated to your dog. This will allow your puppy greater space to run around and explore without putting your entire home at risk. It's preferable to closing the door to the room where your puppy is playing since it allows you to keep an eye on them while still allowing air to circulate between the rooms. Choose a space with dog-friendly flooring and minimal chewable or scratchable furnishings.
Camera for Pets – Investing in a pet camera might provide peace of mind if you are spending time away from your dog while at work. While you're away, some even let you communicate with your dogs or give them treats for good behavior.
Provide security
Tape down or place all electrical cords out of reach. Puppies chewing on an electrical cord run the risk of electrocution. When playing with or becoming trapped in a dangling cord, a playful dog may be able to pull a heavy item on top of themself.
To keep your puppy from escaping, keep all outside doors and windows closed and locked.
Be aware of choking hazards. Batteries, jewelry, toys, office supplies, and other small items can cause your puppy to choke if chewed on. Keep these goods up high, out of reach of your pet, or store them in a secure container.
As quickly as possible, update your contact information on your pet tag or pet chip. You'll want to be able to reach your puppy right away if it gets lost.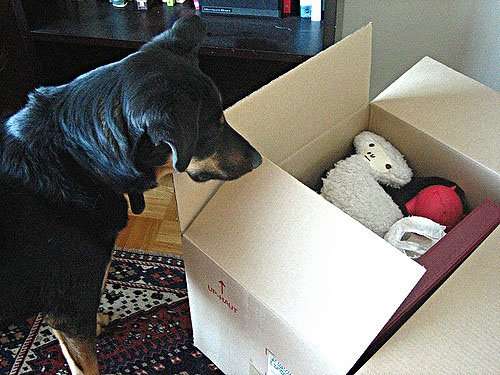 Also Read: Traveling with Animals Dos and Donts
Because the trash can is a tempting place for curious puppies, it's critical to keep your trash safe. In the garbage can, pets can find a variety of dangerous materials, such as raw or damaged food, home chemicals, or choking risks.
Keep cleaning materials and other chemicals out of reach or locked away. Antifreeze is particularly dangerous to pets since it has a pleasant odor yet is lethal to them.
Keep all over-the-counter, prescription, and vitamin medications out of reach of your dog. Additionally, store all drugs in their original child-resistant containers, relocking the safety lids after each use.
We hope these pointers assist you and your new furry buddy in making a wonderful first impression in your new home! Give WowMover a call now if you're planning a move soon! We can handle moves of all sizes and even provide moving storage options while you're moving. Contact us today for a free quotation and to learn more about how we can make moving and storage easier for you!

Related Articles: