How do you do packing without bubble wrap? When it comes to packing fragile objects for relocation, the first thing that comes to mind is to use as much bubble wrap as possible to ensure that your breakables arrive in one piece? Bubble wrap provides the finest possible protection for any household items made of glass, porcelain, ceramic, wood, or another delicate material, and this is the appropriate thing to do.
In such situations, your primary aim should be to employ clever cost-cutting strategies that allow you to be as frugal as possible. Put another way, and you should only spend money on things you absolutely need.
You might choose not to use bubble wrap to cover the most fragile items in your home to save money on packing. When packing for a move, no more bubble wrap. Isn't it too good to be true?
Right. It is, however, very achievable; simply continue reading to learn how to pack without bubble wrap.
What Are The Benefits Of Using Bubble Wrap?
First and foremost, the concept of not utilizing bubble wrap while packing sensitive objects may appear strange at first. After all, everyone is aware of the key benefits of utilizing bubble wrap when moving:
Protection that is unrivaled. The method bubble wrap is created — by trapping air between two plastic sheets – assures that the packing material has excellent cushioning properties. When wrapped around extra-breakable things, the soft air pockets produce a thick protective barrier, absorbing any detrimental external forces such as shocks, vibrations, or even direct hard blows. Bubble wrap also protects sensitive items from dust, filth, and moisture when they are being moved from one home to another.
Weightlessness. Bubble wrap is a lightweight packing material that cannot add to the overall shipping weight. Long-distance movers, as you may know, assess the cost of moving based on the overall weight of your belongings (one of the price-forming factors).
Versatility. Bubble wrap is particularly well-known for its versatility and adaptability. The air-filled plastic material will wrap securely around fragile objects of any shape or size, making thick protective bundles that will shield your breakables from any damaging pressures during transportation. All you need to do now is secure the bubble wrap bundles with a piece of tape.
Fun. It's a lot of fun to pop the air bubbles in the plastic stuff. Furthermore, it provides a slight therapeutic effect that helps to relieve the tension of moving.
Why Should You Avoid Using Bubble Wrap?
As you can see, using bubble wrap throughout the packing process has numerous undeniable benefits, particularly when transferring a big number of breakables. Packing most of your kitchen items, for example, may necessitate a considerable quantity of bubble wrap sheets to ensure that nothing is destroyed during transit.
However, you should be aware of a few drawbacks to using bubble wrap as a packing material before buying a few large rolls of plastic wrap.
Here are some reasons why packing your fragile products without bubble wrap might be a good idea:
Unfriendly to the environment. Because bubble wrap is constructed of plastic sheets, it is usually non-biodegradable. Simply put, after you've finished unpacking your belongings at your new house, you'll need to be cautious about how you dispose of the remaining bubble wrap. Of course, eco-friendly bubble wrap (also known as green bubble wrap, Enviro bubble wrap, and so on) is available, but it is more expensive than normal bubble wrap.
Price. The cost of bubble wrap varies depending on where you get it. The cost is also influenced by the quantity, size, and manufacturer. You should buy biodegradable bubble wrap, which is more expensive in general if you want to reduce your environmental effect when moving.
Here are some price examples to give you an idea of how much bubble wrap costs in general:
A box of 150 ft. of Enviro-bubble costs around $20 at UHaul;
A roll of 100 ft. of Enviro-bubble costs roughly $25 at UHaul;
A roll of 250 ft. of Enviro-bubble costs roughly $30 at UHaul;
A roll of 60 ft. of green bubble wrap (Duck brand) costs around $11 at Walmart;
A roll of 200 ft. of clear bubble wrap (Duck brand) costs around $20 at Walmart;
A roll of 400 ft. of clear bubble wrap (Duck brand) costs around $33 at Walmart.
If these rates appear to be reasonable, keep in mind that the sheer amount of bubble wrap you will require will put the most strain on your budget.
You'll need bubble wrap to cover an incredible number of breakables in your kitchen alone, including plates, glasses, bowls, cups, porcelain mugs, forks, spoons, knives, and more. You'll need bubble wrap to protect art, vases, mirrors, delicate furniture, and most types of electronic equipment when packing the remainder of your house (use anti-static bubble wrap for your electronics).
As a general guideline, any item that you consider to be fragile should be wrapped in air-filled plastic for further protection. This will almost certainly necessitate a large number of rolls or cartons of bubble wrap.
Related Article: How to Pack Blankets and Linens for Moving
Is It Worth It To Hunt For Free Bubble Wrap?
Let's talk about whether getting free bubble wrap for your packing needs is worth the time and effort before we provide you with the entire list of good bubble wrap substitutes, so you don't have to pay money for the plastic packing material.
The only method to use bubble wrap while packing fragile objects without spending money on it is to get them for free. Yes, free bubble wrap can be found in the same way that free moving boxes can be found.
In reality, acquiring free bubble wrap is a win-win situation for you: you'll be able to preserve your fragile products in the best possible way while also saving money. The only difficulty is that you'll have to give up a lot of time and effort that you might not be willing to put in.
In actuality, there are a few options for getting free bubble wrap before you start packing your valuables:
Inquire with friends, neighbors, and coworkers whether they have any suitable bubble wrap in their homes that they will not need in the near future. Consider making a Facebook post (Need bubble wrap. Can anyone help?) and asking your friends to share it with their Facebook friends to reach out to all of your friends at once. In the best-case scenario, you'll have more bubble wrap than you'll ever need, and it'll be completely free.
CONTACT the largest retail stores in your city to ask if they have any leftover bubble wrap sheets. Most of those stores receive regular delivery of various products wrapped in bubble wrap (sometimes daily). So, once those items have been unwrapped and displayed in stores, the remaining bubble wrap can be yours for the taking.
SEARCH FOR FREE BUCKETS Freecycle and Craigslist are the two internet sites where you have the best possibility of finding free bubble wrap for your precise packing requirements.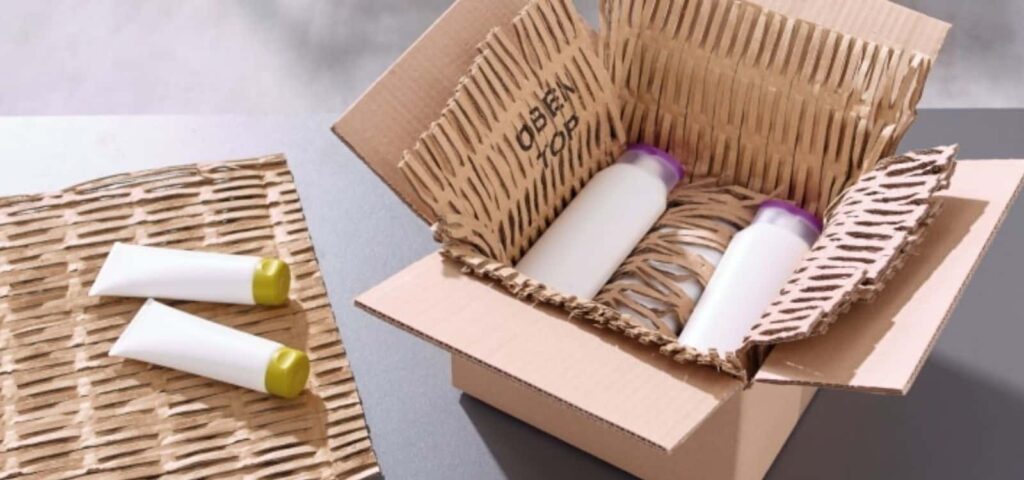 Alternative Materials For Packing Without Bubble Wrap
Keep in mind that getting free bubble wrap isn't going to be easy. Furthermore, the time you spend looking for packing materials may be a luxury you can't afford, especially if you only have a few days to prepare for your move.
When brand-new bubble wrap is out of your price range and getting free bubble wrap is too much of a nuisance, you're left with only one viable option: packing your fragile products without it. However, because you still need to safeguard your breakables, you'll need to find effective alternatives to bubble wrap that will allow you to preserve your belongings damage-free throughout the move.
Paper for Packing
Bubble wrap is thought to be the greatest option for wrapping paper.
White packing paper is soft enough to cushion fragile goods during a transfer. Wrapping paper effortlessly conforms to any shape and prevents dust and moisture from reaching the goods you want to protect.
Blankets
Because of its soft padding effect, thick furniture covers provide exceptional protection for sensitive goods. However, because moving blankets are more expensive to buy and use during the packing process than bubble wrap, you should only use them to protect really fragile items that have personal value for you.
Towels
Towels, like blankets, are good padding materials and can be used as a replacement for bubble wrap.
Because there's always the risk of ruining a towel or two throughout the house moving process, you don't need to use brand-new yet unpacked towels that you've stored for years. However, you are free to wrap extra-fragile objects in your home's worn but clean towels.
A Set Of Clothes + A Set Of Bed Sheets
When you have a lot of old clothes and bed linens hanging around the house, you don't need to spend a lot of money on bubble wrap.
The fact is, most of the clothing and bedsheets that you're considering tossing out during the sorting process may be utilized as effective bubble wrap substitutes. There's no point in throwing away possible packing materials until after the relocation is completed.
Socks
Kitchen glasses, especially those with super-fragile stems, can be protected with socks. Normally, such stemware would be bubble wrapped, but if you want to save money on packaging materials, simply place the glass objects inside thick, clean socks and move them to pre-padded boxes.
Newspapers
You will not be charged extra for old newspapers, but you should be careful how you use them throughout the packaging process to avoid ink stains. This is why you should only use newspapers as space fillers within moving boxes, not as protective layers that will come into contact with your valuables.
Recent Articles: