If you're considering buying a home in an area with a high risk of flooding, your mortgage lender is required by law to compel you to acquire flood insurance. However, how will you know if you need to get flood insurance? What does it cover, exactly? This guide will explain it all to protects when purchasing your new property.
Related
Is Moving Insurance Protection Really Worth It?
Why It Is Important to Make Sure Your Moving Company Is Insured?
What is flood insurance and how does it work?
Flood insurance is a sort of home insurance that covers your home and possessions in the case of a flood. Flood damage is typically not covered by conventional homeowners and renters insurance policies, so you'll need to purchase extra coverage.
The Federal Emergency Management Agency determines the flood risk in a given area (FEMA). You might ask your real estate agent whether any residences are in a high-risk flood zone and if homeowners normally have flood insurance coverage throughout the property buying process.
Related
Tips For Your New Home Design After Moving in
Your mortgage lender will tell you if flood insurance is required when you buy a new house. Although flood insurance is not usually needed, there are reasons why you might want to get it even if you don't live in a high-risk location.
Is it necessary to get flood insurance?
All homeowners should consider getting flood insurance, especially if they want to be prepared for any unforeseen occurrences. According to the National Flood Insurance Program (NFIP), more than 20% of all insurance claims occurred outside of flood-prone zones.
While you may never require it, it can be beneficial in the event of a natural disaster. The damage to your home might cost as much as $25,000 if it floods just one inch. Consider obtaining flood insurance, whether you live in a high-risk or low-risk flood zone, for peace of mind.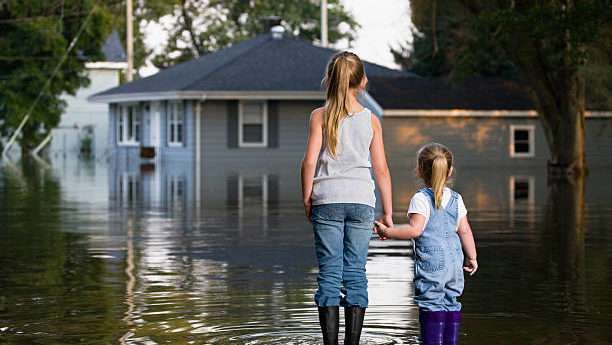 What does it cover?
Building property and personal contents coverage are the two forms of flood insurance available. The NFIP offers up to $250,000 in building property loss and $100,000 in personal property damage for flood insurance acquired via the NFIP. The following is a list of what flood insurance normally covers:
Coverage of personal contents:
1. Clothing, gadgets, and house furnishings are examples of personal belongings (curtains, furniture)
2. Items that may be taken with you, such as air conditioners and microwaves
3. Precious objects worth up to $2,500
4. Appliances such as washing machines, dryers, and freezers
5. Blinds for the windows
6. Carpets not included under the building property coverage
Building property coverage:
1. The architecture, foundation, electricity, and plumbing systems are the first things to look at.
2. Heaters, furnaces, or air conditioners
3. Refrigerators and stoves and other valuable appliances.
4. Items that are permanently installed, such as carpet, bookshelves, and cabinets
5. Blinds for the windows
6. Garages
7. Debris cleanup
In underground locations like basements and crawl spaces, flood insurance coverage is sometimes limited. Foundation walls, air conditioning systems, drywall only in basements, electrical outlets, fuel tanks, and furnaces are normally covered under building property coverage in these areas. Washing and drying machines, freezers and the food within them (not including refrigerators), and portable air conditioners are all covered under personal property insurance.
Ready to Move? Here are companies that help you move
Xfnity Moving
College Hunk
Two Men and a Truck
All My Sons Moving and Storage
U-Haul
College Hunk
Portable On Demands
Budget Truck Rental
1-800-PACK-RAT
Penske
Best Interstate Moving + Storage