It is a good idea to plan as much as possible in advance if you want to move into a new home. Preparedness means deciding what kind of house you want, where you want it to be, and how much you can afford. In addition, you would want to ensure that the procedure is organized, that expensive things are properly shipped, and that your new home is ready when you arrive.
Related: Home Buying Guide for 2022
Understand what you can afford
What you can do first is to find out exactly what you want from home, what you need, and what you need to pay to get it. A number of bedrooms may be required if you have children, or if you have pets, a backyard. You may need a home in the area where you work from home or telecommuting at a minimum speed internet service provider. You will help reduce the list of prospective homes by figuring out what you want, against what you absolutely need.
You're also going to spend time looking at your budget and how much you can spend on your house. It is important to note that you pay only one portion of your rent or monthly mortgage for a home. In addition to rent or lease, the expenses of public services, landlord or homeowner's insurance, income tax and in some situations the association fees are also to be taken into account. Regardless of whether you purchase a house or rent, you would possibly have to pay closing costs, deposits and application fees.
There are a number of online calculators to help you understand how much electricity and other services you can expect to pay for. You may also also call utility providers in advance before you travel and get a general price quote. If you buy a house requiring any maintenance, be sure to contribute to the cost of repairs, refurbishments and improvements. Bear in mind that contractors' estimates are approximations only, so it is vital that certain additional costs such as furnace replacement, the repair of a roof , roofing installation or the repair of a driveway are kept in your budget.
See house prospects
You will begin to narrow down which homes you want to look at until you know what you have to have and what you can invest. In addition to ensuring that a home is in your price range and is in reasonable condition, you would also want to ensure sure the apartment or home location is well suited for your life.
Also Read: Question To Ask Before Renting An Apartment
You will want to make sure you live in a good school system and a safe area with plenty of sidewalks if you have children. If you want to live in a rural area and drive to the city to work, you would also want to look at traffic and transport times. A few kilometers away can transform into a very long driving period, if the roads are not in good condition or if the traffic is not sufficient for rush hour traffic.
Complete the agreement
Once you have chosen it, you will have to finish it all and make sure your new home is ready. Make sure you collect keys or send them to you and know any new house access codes. Make sure you know the gate code for yourself or you add yourself to a resident list when you live in a gated community.
It is also a good idea to have basic services, such as water and electricity, enabled before moving. If necessary, turn on them a few days in advance of your arrival. This ensures, in unforeseen situations, that you still have water and energy.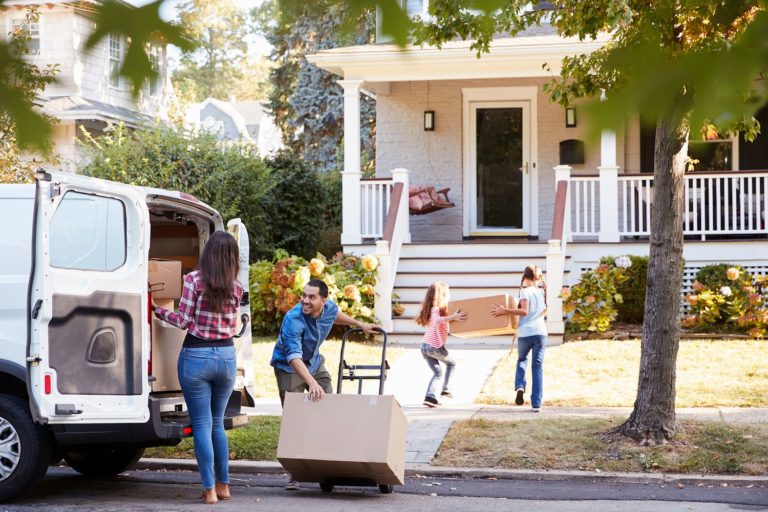 Prepare for relocation – Move into a new home
It is much easier for many people to hire movers instead of addressing the challenge alone. Movers not only bring your household goods to your new home, but they also pack and load things into a truck and unload them. Professional movers often provide repair or replacement coverage if anything is broken during a move.
If you take care of your move or get professionals to do the job, you will have to understand what you are doing and plan anything for the journey. One of the first things you have to do is find out what you want to hold and get rid of. The majority either sell things that they don't want through a website such as Craigslist or sell garages. If you don't want to sell things that you don't need anymore, consider donating to a charity. Some of the charities provide programs to collect donated items. There are also several charities in shopping centers with drop boxes.
Once you know what's going on, you need to think really hard about marking furniture, equipment and boxes. The room or box in your new home should be included in the labels. If the object is fragile or is to be moved, like a piano or old furniture, be sure that you mark it as such.
Labeling and being fragile would also make sure when they are filled and unloaded, the boxes are carefully marked. It's easier to ensure that nothing is damaged until you get to your new home because you won't have time to go through bedding boxes to make sure that nothing is harmful.
Working with a moving companies
You would want to get an estimate to find out what kind of moving coverage you want if you plan to work with the moving companies. You can get many figures. It is recommended. This will ensure that the cost of the support you need is a reasonable price.
The way the majority of the movers charge depends on weight and the distance. So, someone generally needs to review your home content to get an idea of the cost of moving your household. It should be noted that if your household goods weigh more than estimated, the final move cost will vary from your estimates and it is vital that you have an adequate evaluation.
The moving insurance you want is also selected. There are two choices: value security and value protection. There are two options. Protection of released value is $0.60 for each pound of damaged goods. You can get up to $60 for a 100-pound couch that is ruined. But if a smaller, yet more costly item like a TV is destroyed, you will probably be much cheaper than the item. The security of full value offers far more stringent coverage, since a moving company must replace or fix the object, but it also costs more than the protection of value.
You can also ensure that any item priced over $100 per pound is marked as a high-value item or that the mover does not have to refund you when it is damaged. The cost of your transfer includes value security given automatically; how much more would you pay if you wish to cover the full value depends on the mover and the value of the object.
When your mover arrives, they will give you a bill of lading that should include a full list of your home goods. Make sure it is complete and you are conscious that any delicate objects are relocated.
Also Read: Moving Company Terminology You Need To Know
Arriving at Your New Home
You would want to make sure you have everything done without being lost or hurt once you have arrived at your new home. Your bill of lading can be used as a moving checklist to ensure that everything put on a truck was removed from the truck. You should also ensure that anything that is expensive or easily broken is the same as in your last home.
It is necessary for you to check as soon as possible the status of your expensive products because the filing of claims is normally restricted. You may fail to complete repair or replacement that you would otherwise have had rights to, if you prolong the inspection of your domestic goods
Once you have all unpacked and start settling into your new house, explore your neighborhood. You probably choose your home for your local services, so go and get to know the area where your new home is located.
Ready To Move?

Related Articles: