Your bed ensures a restful night's sleep. So, why is shifting a mattress such a nightmare? Moving a mattress can take as little as 15 minutes or as much as several hours of agony. The key goal is to make the process as simple and pleasant as feasible. So, the professionals below can best answer the topic of how to move a mattress. But first, check out these helpful articles.
Is It Possible To Ship A Mattress By Bending It?
Everyone should be aware that moving a mattress might be difficult, particularly one made with steel coils. Steel coils, often known as continuous or Bonnell coil units, were used in the earliest mattresses. Steel coils are connected to a wire throughout this design, resulting in a heavy box spring and mattresses that are difficult to shift.
We've seen manufacturing businesses shy away from this design over the years, primarily because to concerns about comfort and weight. Traditional mattresses, however, designed with a strong, continuous wire that frames the entire mattress, haven't been fully phased out. This type of mattress would be damaged if you bent or folded it in any way. As a result, it is floppy, unusable, and warranties are void.
Depending on their composition, mattresses with pocketed coil architecture may be possible to relocate. This is due to the fact that some of these models lack a border rod or contain a flexible border rod that allows the mattress to be bent and contorted. These mattresses' high-density foam and memory foam allow them to be folded without causing damage to the foam. However, folding or bending the mattress should only be done for a short period of time.
Solid latex mattresses may securely bend or fold to accommodate a move, whether they are made of solid foam, memory foam, or solid latex. Layers of foam are either glued together or piled without adhesives in these mattresses. Without adhesives, the layers may shift, resulting in a deformed mattress. If this is the case, it may appear that you have caused damage.
Zippered mattress coverings are available on some types of beds, allowing you to open the mattress and rearrange the layers.
Move a Mattress Without A Vehicle
Nothing can prevent you from moving a mattress without a vehicle if you have the appropriate substitute equipment. Ratchet straps, tie-down straps, or zip ties can be used to fasten a mattress to the roof of a car or compact SUV. When the back seats are folded down, larger moving vans or capacious crossovers can fit the mattress inside.
There is always the alternative of hiring a U-Haul, relocating a van, or borrowing a truck for those who do not possess a truck. The only reason trucks are preferred for transporting mattresses is because of their big bed storage.
Will Movers Be Able To Transport A Mattress?
If you think moving a mattress is simple, you might want to reconsider. You can't simply plop a bed in the back of your pickup truck and call it a day. Because innerspring and memory foam mattresses are prone to harm when relocated, you should consider investing in a protective mattress bag and, even better, hiring a moving company to help you. Anyone in need of mattress moving services can locate reputable companies through a network of movers or by searching online.
There are a variety of methods available to help with the difficulty of moving large items. Because hiring a mover to help with your mattress might be costly, you should look at your budget to see if a moving company is the best option for your situation.
Moving straps, moving blankets, bubble wrap, ratchet tie-downs, and other moving supplies will be provided by the movers. They'll also know the finest mattress moving tips to keep your mattress flat, clean, and like-new.
The cost of moving a mattress is determined by the mattress's dimensions and weight, as well as the distance traveled. The best piece of advice is to look into moving firms and request a price. You can then compare which companies fit your budget and requirements.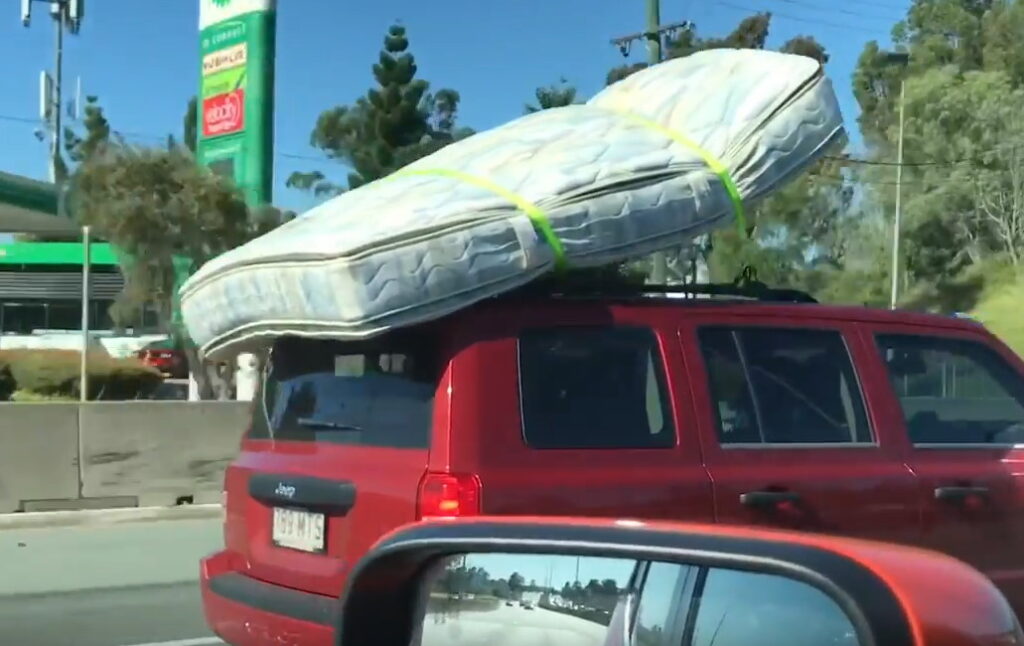 Is It Better To Move The Mattress Oneself or Pay Movers?
Most of the time, transporting a mattress by yourself is easier and less expensive. There are instances when enlisting the help of relatives or friends is inconvenient, and you may not want to spend money on professional movers. This is when most people choose to move a mattress by themselves.
Although not everyone can move a mattress by themselves, most individuals will have no problems. You should keep in mind a few things before attempting to transfer a mattress.
You must know the weight of your mattress, which varies depending on its size and type. Because safety comes first, anyone with back problems, restricted mobility, or severe joint problems should avoid moving a mattress alone.
What Is The Best Way To Move a Mattress Without Destroying It?
Get The Mattress Ready
This entails stripping the mattress of all bedding. You can use a heavy-duty garbage bag, a vacuum-sealed bag, or a box to store your blankets and bedding. This step can be skipped because a brand new mattress will not have any bedding.
After that, you'll want to cover the mattress with a mattress topper or cover. A mattress cover protects your mattress from dirt, damage, and stains during the moving process. Plastic covers are extremely useful and serve as a proper type of protection in the event of adverse weather on moving days.
Then, place your mattress in a mattress bag with the plastic cover still on. You can even try compressing your mattress at home if you're feeling up to it. However, exercise extra caution because inappropriate compression can harm the mattress's materials.
Once Your Mattress Is Ready To Be Relocated, Clear the way.
When it comes to moving your mattress, the last thing you want to worry about is tripping and falling. Another element to consider is establishing a path that will get you from point A to point B.
Make sure your moving vehicle or truck isn't too far away as well. Also, open the door or trunk and fold the seats down ahead of time. It makes the entire procedure lot smoother if you take the time to plan out your line of action.
Related Article: Moving Guides: What can you do with moving blankets?
Get Ready To Do Some Hefty Lifting
Do not skip this step because moving a mattress wrongly might result in serious damage, even if it is a lighter one. Always raise using your legs rather than your back. When carrying heavy furniture by themselves, it is recommended that persons with knee or hip problems wear a brace.
Bend down until your legs are at a 90-degree angle with the floor to lift your mattress. Keep a firm grasp on the mattress and stand straight up while holding it with your legs. Put the mattress down immediately if you suffer any pain or unusual discomfort.
The mattress is then moved to a room or a vehicle in the fourth phase. Moving your mattress within the same house is sometimes easier. The stairwell, on the other hand, can be tricky to maneuver. Remember to measure your transport vehicle to verify that you have enough room to safely place the mattress inside or secure it to the roof.
Talk About Transportation
This does not have to be a stressful situation all of the time. Take your time to avoid any potential issues. The highest focus is always safety. It is vital to have a sturdy bed frame to support your mattress as well as the base.
It is critical to have no driving vision obstructions if your mattress is positioned within or on top of your driving car. If the mattress is on top of the car, use a tight-fitting strap or close the trunk and leave enough room to see out the mirrors.
Before you put sheets on your new mattress, make sure you open the windows and allow them to air out.
Whether You're Moving a Mattress Across Town or Across The Country
If you ever need to migrate to a new home, keep in mind that if you are mobile and strong, you can move heavy items of furniture by yourself.
You should consider the size of your mattress because it will affect how easy it will be to transfer it. A California King mattress is obviously far more difficult to transfer than a queen-size mattress. If you're relocating locally and need to carry a mattress onto the roof of your car, you can always enlist the help of friends and family. Even if you're relocating nearby or have an old mattress, we strongly recommend hiring expert movers. Just make sure you understand what you're up against and that you're well-prepared for your move.
Recent Article: