All of our customers, whether they realize it or not, strive for rodent-proof storage. However, things we do accidentally while storing belongings in a storage facility might often attract unpleasant bugs. An infestation might begin and return before we realize it. Everyone should learn how to keep pests and rats out of storage facilities as much as possible.
Try these other strategies to keep undesirable critters out before buying a ton of traps and poison. Most of the time, a little planning goes a long way toward keeping your items clean and secure.
Following all of the procedures described below is the best method to keep rats and other vermin out of your storage. It's quite rare that you'll have difficulty if you remove food, store stuff properly, and choose the right facility.
Items should be placed in plastic bins with airtight closures
Packing your belongings in well-sealed containers is the most effective approach to keep bugs out. Plastic containers are ideal for linens, fabrics, and garments, in particular.
For storage, we recommend purchasing new cardboard boxes. The new boxes will be stronger and less likely to have gaps or punctures through which pests could enter, as well as be built to endure stacking for extended periods of time.
If you're going to use free moving boxes, make sure to stay away from free cardboard boxes from grocery stores or restaurants. Unwanted pests have been known to be attracted to these.
Food should not be kept in a storage unit
This may sound self-evident, but you'd be shocked how many individuals make the error of storing food in storage. If you're in a rush to move, don't put your entire pantry in a storage container and expect no one to notice.
Look for food in places you didn't plan to leave it. Under the cushions, vacuum or clean the furniture. Look for crumbs or leftover food on the surfaces of kitchen storage containers, pots, and pans.
This step entails more than just storing food. Make sure the area around the unit is swept and there are no crumbs from previous renters or a meal you ate on moving day. Also, avoid eating anything inside your unit. The lingering odor might be very appealing to undesirable animals.
Items should be lifted a few inches off the ground
Even though bugs and rodents may crawl, it's best to keep your belongings off the ground. Using open shelving or laying clean pallets on the ground are two simple ways to accomplish this.
This step will not only assist to keep bugs out of your boxes but will also preserve your goods from dampness.
Make use of natural pest repellents
Many sports fans would agree that the best offensive is sometimes the best defense. But it doesn't mean you have to bring a ton of poison and traps with you.
Before using any pest spray, chemical, or commercial repellent, check with your storage facility. Professional pest treatment is used on a regular basis in reputable storage facilities. Their approaches are effective and, more significantly, take into account people's safety.
Mothballs may appear to be harmless, but the odor can destroy clothing and furniture not just in your storage unit, but also in nearby apartments. You can also use natural methods to keep pests at bay.
Keep mice and pests out of your storage unit by following these steps:
Arrange cedar blocks on a shelf in a bowl.
Soak cotton balls in lavender or peppermint essential oil.
Keep the place clean and swept with a broom.
DampRid can be used to get rid of odors.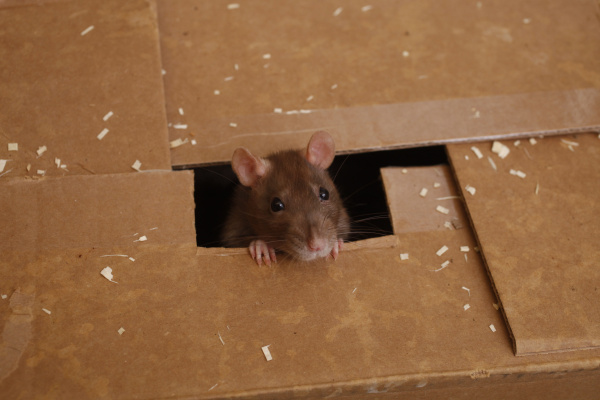 Mattresses and upholstered furniture should be covered.
Mattresses are the most typical way for bed bugs to enter storage containers. Make sure any mattress you're storing is bug-free before putting it away. Use a plastic mattress cover that is specifically made to keep pests out to deter them from entering.
Bugs can crawl into upholstered furniture, and rodents can gnaw it up. Make sure to cover anything with fabric in any way. Take a time to double-check that the furniture is properly covered.
For couches and fabric-covered chairs, use breathable materials.
Some things, such as beds and non-upholstered furniture, can be covered in plastic. For detailed instructions on storing both, see our guidelines on storing furniture.
Keep in mind that while you want to keep pests out, you also want your belongings to be able to breathe. Wrapping furniture in plastic or cloth too tightly might lead to moisture build-up underneath, which can destroy it.
Also Read: How to Properly Secure your Furniture while Moving
Regularly visit your storage unit
When pest and rodent infestations are identified and dealt with quickly, they are the easiest to treat.
Every other month or so, we recommend paying a visit to your storage facility. Make sure you inspect your storage unit for any evidence of rat or pest damage every time you come. New holes, rodent droppings, or the presence of bugs should all be looked for.
If you detect any of these issues, please notify management right once. Ascertain that the organization inspects the issue and corrects it as soon as possible.
Choose a storage facility that is concerned with pest management
The facility is one of the most important decisions you can make when it comes to pest control. If the storage facility has been neglected by management, there isn't always much you can do to keep pests at bay.
There are a few red flags to look for before renting, such as noticeable cracks or deteriorated seals on the storage doors. A well-kept facility is considerably more likely to not just prevent infestations, but also deal with them quickly if they do emerge.
Consider the following factors while choosing a storage facility:
Check for well-kept landscaping at the premises.
Find out whether the company uses pest control services on a monthly or quarterly basis.
Examine the storage facility's perimeter to see if it is free of rubbish.
Examine the condition of the doors and access places.
Check waste locations for hidden rubbish that is eliminated on a weekly basis.
Related: Moving Guides: What can you do with moving blankets
Check your insurance coverage to see if rats or pests are covered
Even the cleanest storage facility will have pest problems from time to time as renters unintentionally bring mice and insects into their unit.
Thorough insurance coverage will be your most important line of defense if an infestation occurs. Many storage facilities require stored property renter insurance, however not all policies will cover a mouse or pest problem.
Make sure you constantly have an accurate inventory of what's inside your storage unit, in addition to getting the right insurance. This will make the replacement process easier and less stressful if there is damage. We hope these pointers provided some insight into how to keep pest- and rodent-proof storage.
Looking for a Storage Unit?
Related Articles: