"How much will my overseas removal cost?" is one of the most often asked concerns about foreign relocations. The answer is not as straightforward as it may appear.
The following are some of the aspects that go into the cost of international moving services:
Unique needs, such as disassembling or difficult access
Where you're moving from and where you're going
When you're on the move
The service type (e.g. exclusive full container, or shared load)
Quickness of delivery
The total number of items shipped
Requirements for packing, including any crating
We'll go through these in more depth later.
What Does It Cost to Hire an International Removal Company?
The following factors influence the cost of international shipping:
the number of items you want to ship internationally
the type of items you want to move (will there be a lot of packing? Will something require special protection? Will something be difficult to get out of the house?)
the urgency with which you require your belongings to come
the services that you select (packing, insurance, crating, handyman)
the relocation strategy (how efficiently a move can be planned based around your own time constraints)
any special requests you may have (out of the ordinary items for example, or additional collection points)
access to the properties of your origin and destination, as well as the distance between the ports
the type of moving company you choose.
when you need to get somewhere (peak periods can affect pricing if demand is higher or lower than usual)
Arranging a house visit with an international removal company is the best method to acquire an accurate quotation for your move. This move consultation should always be free and include a no-obligation moving quote to assist you to figure out what you really need to budget for and avoid any unpleasant surprises when it comes time to move.
Why Are the Prices of Different Removal Companies So Different?
We're also frequently asked how different companies' pricing can differ so much, even if they all fulfill the same requirements and offer the same services. The first thing we'd recommend is thoroughly comparing your quotations and ensuring that the quality standards are comparable.
But there are additional elements that could cause your moving costs to be greater or cheaper than others; there are probably too many to name, but here are a few examples.
If the removal company is experiencing a slow week or day, they may provide a discount on your move because they'd rather undertake a move at cost than pay employees who aren't working.
Alternatively, if it's peak season and one company is already fully booked, you may have to pay a higher price to acquire your preferred company.
If you're the last customer to fill up a groupage shipment, the company may offer you a discount to entice you to book with them so that they can fill the container and ship it faster for all customers.
If they already have a moving truck in your region, they may be able to divide part of the transportation costs with other customers to give everyone a discount.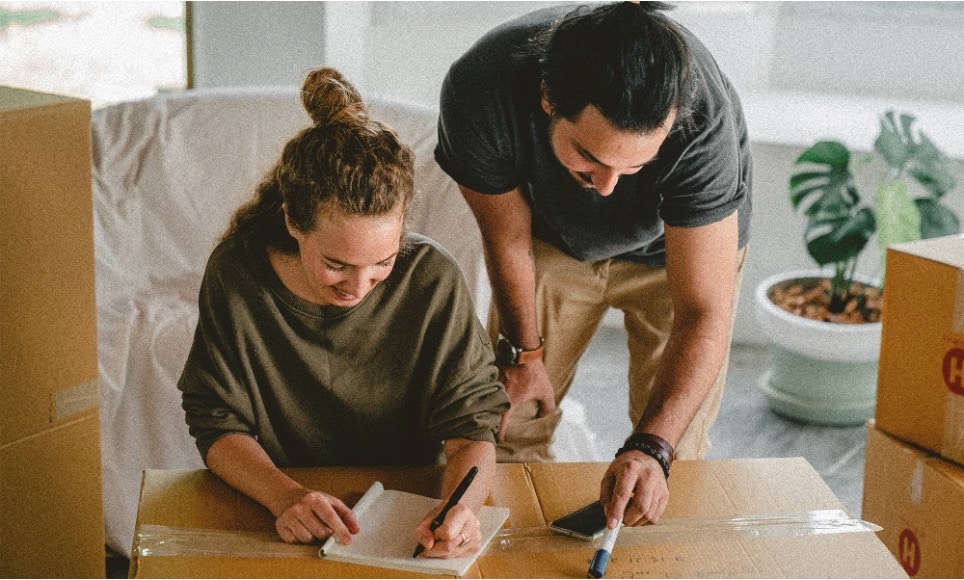 As you can see, "how much does it cost?", as well as, "why does it fluctuate so much?" are comparable to the question "how long is a piece of string?"  If you're unsure, ask your moving company directly. They should be open and honest about their price, and they should be willing to explain how they arrived at their figures so you can be confident you'll get the service you want.
Are There Any Other Extra Costs I Should Know About?
Other additional expenses may apply depending on where you are relocating from or to, which your removal company should inform you of ahead of time.
These could include the following:
Moving Storage – if you are unable to accept delivery of your belongings immediately away, inquire about storage rates with your removal company.
Moving Insurance – When shipping household goods internationally, it's critical to have international removals insurance in place. This amount should be presented separately from your shipping costs and is usually calculated depending on the declared worth of your things.
Customs inspection fees – in some areas, these are fixed and applied to all customers, while in others, they are applied to randomly selected customers or dependent on the length of the inspection.
Duties and taxes – While most household goods movements are duty and tax-free, depending on the contents of your cargo and your eligibility for duty-free imports, you may be subject to additional customs and excise charges. Your removal company should be able to assist you with this ahead of time.
Before arranging your move, make sure you ask your removal company if there are any additional prices or exclusions you should be aware of. They should be clear and transparent about their prices, and willing to explain to them if necessary; nothing should come as a surprise!
Moving Overseas?

Related Articles: