Closing on a house can be a stressful experience. There are a lot of moving parts in the closing process—inspections, appraisals, mortgage approvals, and mountains of thick paperwork—not only are you buying potentially the most expensive product you'll ever do in your life, but there are also a lot of moving parts in the closing process.
The legal description of property, also known as the legal description of real estate, is one of these crucial documents. This legal definition specifies where the property starts and finishes, and it's what everyone refers to when a house is for sale or if there are any questions about the property's boundaries.
Your legal description documents precisely what parcel of land you're purchasing when you purchase a house so that your property rights can be enforced. It also informs the mortgage lender of precisely what you're purchasing, allowing them to correctly calculate the land's value and fund your home loan.
How is a legal description written?
There are two major types of legal property descriptions. A metes and bounds is the first type. The second is a definition of the lot and block.
Metes And Bounds: A metes and bounds system uses physical features of the land and geography, such as roads, water features, and prominent landmarks and buildings, to define a property's boundaries. It defines the property's boundary based on the relative distance and direction from these elements, and it often employs jargon. It can be very difficult to read unless you are a surveyor or have previous experience with legal descriptions.
Lot And Block: A lot and block definition is a lot easier. It states the subdivision where the property can be found, defines the acreage or other physical measurements of the land, and can also list boundaries, though not in as much detail as the metes and bounds. These plots were generally drawn up, traced, and numbered in a more formal fashion than the metes and bounds, making them easier to understand for a layperson.
If you have any questions about common boundaries, such as a shared fence, plants, or any other issues, legal descriptions will help. When buying a home in a rural area, a new building, or a land lot, it's particularly important that the legal description of property is correct.
Also Read: How to Buy Your First Rental Property
What is the best way to read a legal description of property?
The legal description is difficult to comprehend, but if you do, you will have an advantage when selling the property or taking out a second mortgage. More importantly, you can be confident in your latest purchase because you know exactly what you're getting.
It's fairly easy to read a lot and block description, or any legal description that describes the property by lot number, and it also includes a visual diagram of the lot.
A metes and bounds description, on the other hand, is a continuous block of text that defines the perimeter centered on a fixed point. It begins with a landmark, such as a river or a house, and then refers to the property's boundary line in relation to that landmark. The definition of the boundaries in terms of north and south continues after that.
It could, for example, start with the northern boundary and then move on to describing a second boundary in terms of north. The summary would read, "North 90 Degrees East 45 feet," rather than "45 feet East." The description will proceed in this direction around the edge of the land parcel's borders until it reaches its starting point.
Also Read: Business and Commercial Moving Company Guide
While this style of language is intended to be systematic and self-referential, it can be difficult to understand. Speak with your real estate agent for assistance, and you'll be able to figure it out in no time. If, of course, it was not written properly.
What if the legal description is ambiguous–or clearly incorrect?
Determining the limits of a property in relation to a landmark has clear drawbacks. Natural and man-made landmarks are constantly changing, which may render a legal description obsolete. Furthermore, legal descriptions have been passed on from one person to the next, like a long game of Telephone. When a property has changed hands many times, the legal description would almost definitely need to be corrected or explained.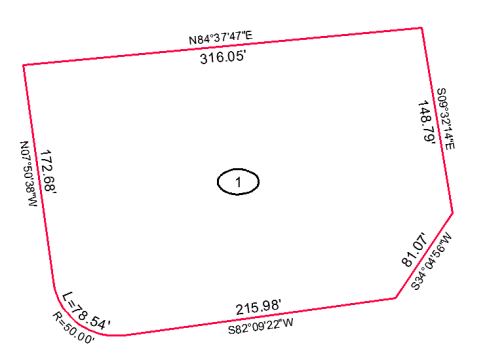 There are a number of other explanations why a legal description can be incorrect. The description may be contradictory or ambiguous in establishing a starting point. If it fails to form a closed shape, you won't be able to simply connect the dots to complete the perimeter. In this case, you need to have the property defined by a judge. Natural landmarks are also ranked first, human-made landmarks second, adjacent tracts third, and so on, with natural landmarks being ranked first, human-made landmarks second, adjacent tracts third, and so on.
If you notice contradictions in your legal description of property, talk to your real estate agent and, if possible, a real estate lawyer to figure out how to fix the problem.
Where can I get a copy of my property's legal description?
If you have a contract on a property, the title company that handled the previous sale should be able to provide you with the legal description. If you inquire nicely, most sellers and title companies will provide you with a copy even if the property isn't under contract.
You will need to look up the legal description of a property yourself on occasion, particularly if you aren't working with an agent. If you want to look up the legal description yourself, go to the county tax assessor's office first. Many tax assessors' offices keep a copy of a property's legal description so they can figure out how much property taxes to charge. This legal description is generally included in the deed or attached to it as an appendix.
Legal descriptions of assets are not kept by every county tax assessor, but they are the best place to start. Inquire with the local tax assessor's office. If they don't deal with deeds or legal descriptions, they will refer you to anyone who does, which is usually the county recorder's office.
Related Articles: