Property Line Dispute: Encroachment is described as any situation in which one person uses or constructs on another's land. Typically, such conflicts arise when property boundaries are not clearly described or apparent between adjacent properties.
On the surface, encroachment seems to be a simple concept to understand. The basic legal meaning is easy to understand.
In fact, encroachment is much more complicated than this simple description. Here's what you need to hear about it.
What Does Encroachment Look Like?
Encroachment disputes are almost as old as human society. We've had disagreements about such distinctions for as long as we've had definitions of "my property" and "your land".
Fortunately, you don't have to use a small army to protect your private land. However, it's important to recognize that encroachment can take many forms.
Here are a few examples of encroachment problems you might run into:
Someone building a structure that encroaches on your property.
Anyone erecting a structure on your property.
Anyone violating a legitimate easement – easements are legal ways of giving someone else access to your property as they build something else. Homeowners with public beachfront land, for example, may have easements allowing neighbors or even the general public to use a certain area for commuting to and from the beach. The argument is that the individual is on the property for a reason, and it is usually for a short time.
Someone who trespasses on land on a regular basis, whether for a specific reason or not.
Also Read: What Is the Legal Description of Property?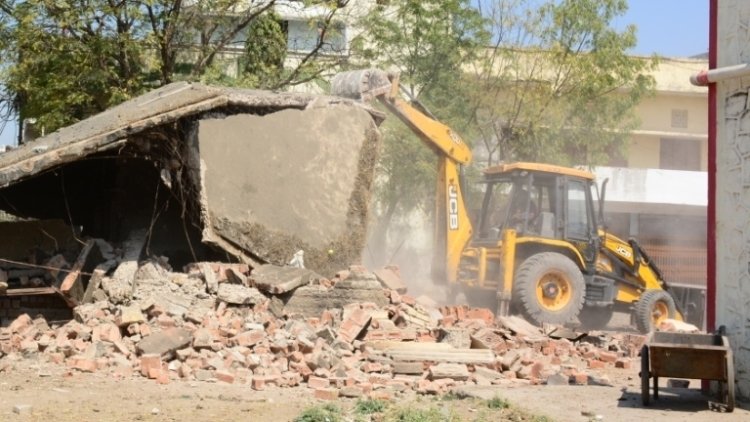 It shouldn't take much creativity to see how someone exploiting their easy access to an easement will make life difficult for a homeowner. Easements and encroachments are not the same thing. The former is, by definition, unagreed upon. Yes, if the situation calls for it, an easement may be a viable alternative to a possible encroachment.
What Will I Do If My Property Is Encroached Upon?
You have choices for dealing with encroachment. They don't have to all end up in court.
Although there are times that it is appropriate to seek legal recourse, de-escalating the dispute is always a more direct way of resolving the underlying issue.
The following are some possible encroachment solutions. Please keep in mind that these are just some of the options available to you. Whatever is best for you should be discussed with a trusted attorney.
Also Read: Tips For First-Time Landlords
Approaches to dealing with encroachment include:
Seek the advice of at least one professional. An expert will assist you not only in negotiating this scenario, but also in identifying any blind spots you might have overlooked. You'll be in a better spot than the person who didn't do either if you can bounce your proposal off an investor and an attorney.
Use a systematic survey to define your property line. This strategy helps you to demonstrate that you are putting in a good faith effort to ensure that you are coping with encroachment.
If you believe the other side is amicable, negotiate. People are capable of being much more rational than we give them credit for. It may be beneficial to consider the situation from the other party's point of view to see if there is a solution you can live with. If your property is located between a famous destination and a neighbor's property, for example, you could have the legal right to negotiate between yourself and even benefit from your favorable location. But before you do anything like that.
Ask for help
Don't be hesitant to ask for help. If you're being suspected of encroachment or think your land has been encroached upon, now isn't the time and try to act as your own lawyer. Major real estate disputes are valid reasons to seek the advice of a competent real estate attorney about your situation and next steps.
Related Articles: