Moving to Missouri? Missouri is the home of Chuck Berry and other known people like Dick Van Dyke, Jon Hamm, and Sheryl Crowe. More than just that, it is also home to delicious food likes Kansa barbeque and St. Louis-style pizza, and natural wonders such as the lake of Ozarks.
Missouri has many to offer, making fun for travelers and relocation. If you want to live or travel to Missouri, here are things you should know before moving to Missouri.
Before we dig into present day, lets talk about a bit of Missouri history.
About 12,000 BC, Settle of indigenous people
In the 17th century, a period of native life emerged during this time.
Settlement grows rapidly in the 1800s, it attracted immigrants from Europe especially Germans.
In 1820, the state allowed slavery.
On January 11, 1822, the bill created the Missouri State Seal.
The Missouri State Library was established by law on January 22, 1829
1841, The University of Missouri has opened.
In 1866, the Missouri Historical Society was organized.
1873, The first public kindergarten in the United States opened by Susan Blow in St. Loius.
1911, The Missouri State Capitol was destroyed due to fire caused by lightning.
In 1957, The Missouri Commission on Human Rights was created on June 8.
Charles Edward Anderson Berry (Chuck Berry)
was born. One of the pioneers of rock and roll music.
Enough of history, looks like you've been liking the idea of a moving to Missouri, huh? To decide if moving to Missouri is good for you, we have compiled a list of things you should know.
Things You Should Know Before Moving to Missouri
Missouri Housing
It is fun to be a couch surfer sometime, you don't have to pay rent monthly. But it's not ideal to do it for the rest of your life. You need a roof to make your life comfortable. Let's talk about the housing market in Missouri.
If you choose to rent for a house to avoid long-term commitment, expect to pay about $998 per month. But if you are moving to Missouri for settlement and need a new home, the average home value in Missouri is around $153,000 and listed on the market for an average of $180,000.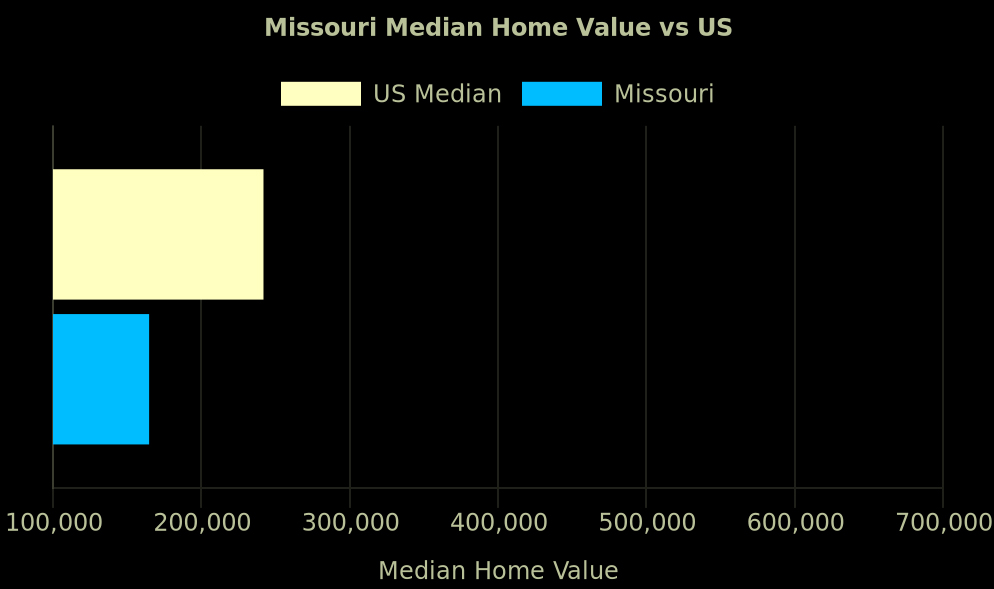 But if living in an apartment is more likely convenient for you, in some large cities like Kansas City and St. Louis you are expected to pay about $836/month to $854/month. If you are on a tight budget you can go to Jefferson City for about $475 per month.
Job Market
If you are moving to Missouri for a career change, there are a lot of job opportunities here. In fact, The Bureau of Labor Statistics shows Missouri's current unemployment rate is 3.6%, which is better than the national average.
According to minimum-wage.org, the current minimum wage in Missouri is slightly above the federal average, $9.45 per hour.
The highest paying jobs in the states are health specialty teacher, dentist, CEO, surgeon, anesthesiologist, psychiatrist, a pediatrician, and OB/GYN.
The fastest-growing jobs include computer machinist, web developer, millwright, home health aid, interpreter/translator, occupational therapist, physical therapist, and operations analyst. There is no shortage of options when it comes to a job.
Ready To Move? Learn more about the best national mover in the United States.
Tourist Destination, Museum and Education in Missouri
Tourist Destinations
The State of Missouri is home to rich United States history and natural attractions.
National World War I Museum
St. Louis Zoological Park
Missouri Botanical Gardens
Lake of the Ozarks:
Gateway Arch
Museum
Rockcliffe Mansion
Harry S. Truman Library & Museum
The Nelson-Atkins Museum of Art
Jefferson Barracks Telephone Museum
Public School District
Rockwood R-VI School District (Eureka)
Parkway School District (Chesterfield)
Blue Springs R-IV School District (Blue Springs)
Lindbergh Schools (St. Louis)
Pattonville R-III School District (St. Ann)
Lee's Summit R-VII School District (Lee's Summit)
Park Hill School District (Kansas City)
Francis Howell School District (St. Charles)
Kirkwood School District (Kirkwood)
Ladue School District (St. Louis)
Missouri Colleges
William Jewell College (Liberty)
Rockhurst University (Kansas City)
Washington University in St. Louis (St. Louis)
Saint Louis University (St. Louis)
University of Missouri (Columbia)
College of the Ozarks (Point Lookout)
The University of Missouri – Kansas City (Bellingham)
University of Missouri – St. Louis (St. Louis)
Missouri University of Science and Technology (Rolla)
Maryville University of St. Louis (St. Louis)
We hope this information help you decide if moving to Missouri is good for you. If you are ready to move, We at WowMover can help you! Just click the Find A Mover button below.