Moving to Kentucky? We are here to help you decide. Here at WowMover, we put all together this "Moving to Kentucky Guide" in order for you to understand if it best for you to move or not.
Learn More Before Moving to Kentucky
Kentucky is also known as the Bluegrass State. It is based on the species of grass found most of Kentucky pastures. Kentucky is the 37th most extensive and the 26th most populous of the 50 United States. It is home to the world's longest cave system: Mammoth Cave National Park, as well as one of the greatest lengths of navigable waterways and streams in the US. Kentucky is also known for tobacco, bluegrass music, automobile manufacturing, horse racing to name a few.
The primary region of the states can be divided into five; the Western Coal Fields, Jackson Purchase, Cumberland Plateau in the east, the north-central Bluegrass region, and the south-central and western Pennyroyal Plateau.
The climate in Kentucky best described as humid as its located within the southern portion of Norther Amarica. However it has an oceanic climate on the higher areas on the states.
Best Place to Live in Kentucky
Flatwoods
Median Home Value: $89,900
Population: 7,200
Known for: Flatwoods is a vibrant community and one of the safest places to live in Kentucky.
Indian Hills
Median Home Value: $502,400
Population: 3,000
Known for: Home rules class city. Extremely safe to raise a family.
Lexington
Median Home Value: $186,500
Population: 322,000
Known for: Kentucky Wildcats, stellar nightlife, rich heritage, wide variety of shopping, dining, and cultural opportunities.
Louisville
Median Home Value: $164,500
Population: 615,500
Known for: Home of Muhamad Ali, Kentucky Fried Chicken, Kentucky Derby, and headquarters of several Fortune 500 companies
Wilmore
Median Home Value: $160,100
Population: 6,300
Known for: Safe community to live or attend school. As a small town, where residents look out for each other. Compared to Lexington, Wilmore is more affordable for home pricing.
Honorable Mention
Bowling Green, Owensboro, and Paducah
Benefit of Moving to Kentucky
Friendly and hospitable residents. Kentucky people love to give a helping hand.
Many outdoor places to visit such as Otter Creek, Lake Cumberland, and Mammoth Cave National Park.
The cost of living in Kentucky ranked at Top 20 as the most affordable state to live in the US.
Compared to another median listing at other cities or states, the current house pricing average is $195,000 compared to others for $289,000. That's a lot of savings.
The states have five seasons includes the distinct seasons plus the Derby season with a lot of festivities in the month of May.
Heavy hunting, if you are into extreme or adventure, you will love Kentucky. From hunting deer, elk, squirrel. But be sure to follow the rules and check the hunting season dates.

Kentucky Housing Market
According to the report, it is better to rent than to buy a house in Kentucky. It is cheaper at 35%. Median Rental expenses are $609 for 1 bedroom and $775 for 2 bedrooms. The Median home value is $148,400.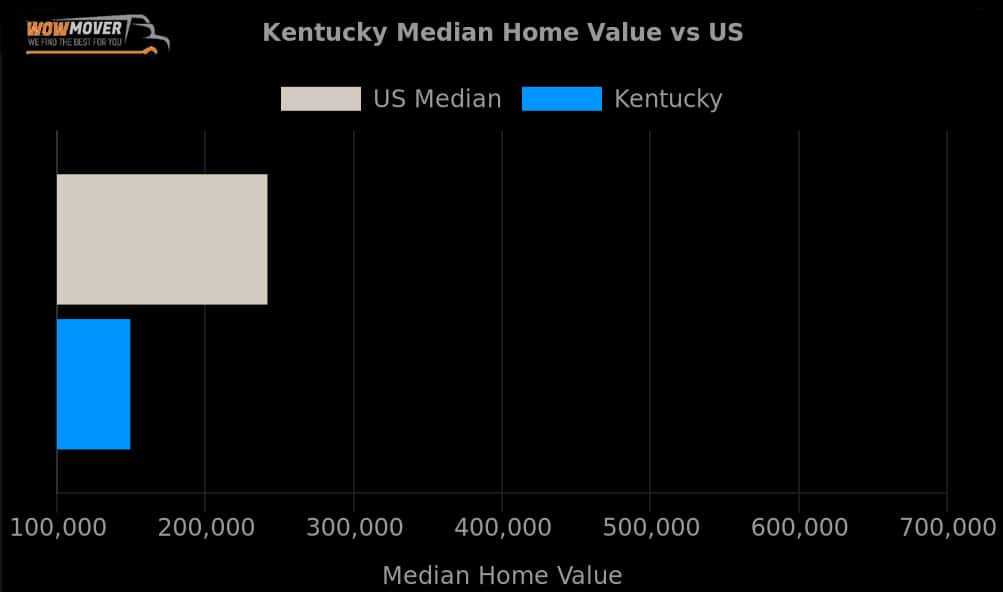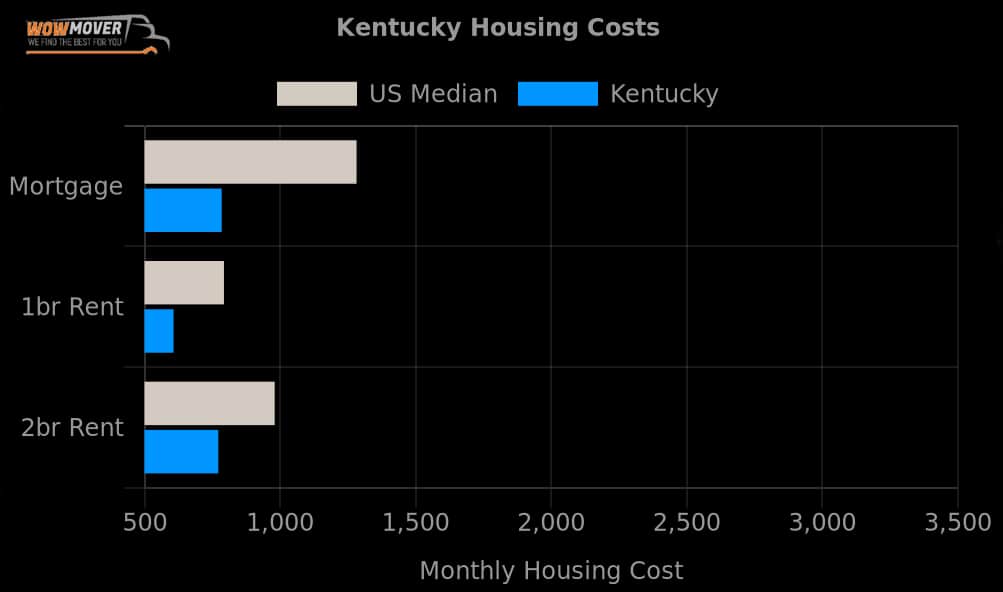 Job Market and Economy
Kentucky is currently ranked 29th according to US News & World Report. The criteria for ranking are growth, business development, and employment. The Median income in Kentucky is $26,779 and GDP is approximately $202.175 billion.
The top industries in Kentucky are; Healthcare, Manufacturing, Retail, Education, Hospitality, Construction, Transportation. If you are looking for a job for those industries, Here are some job search website to help you; Find Employment – Kentucky, Day Shift Jobs, Indeed, LinkedIn, CollegeRecruiter, CareerBuilder
Need a safe and trusted Kentucky movers? Request a free moving quote below.