Planning of moving to Kansas? I'm sure the image of Dorothy frolicking through cornfields pops into your mind when you think of Kansas. The Wizard of Oz and corn are the state's claim to fame, according to most. Just don't say that to a Kansan native. More than just Toto and animal feed, the state has more to sell.
Moving to Kansas
There is a steady job market, a vibrant society, and a law that makes it illegal to kill whales (a transfer to the Midwest for all the whale hunters out there). Within our trusted network, you will find affordable home insurance no matter where you want to travel to in Kansas.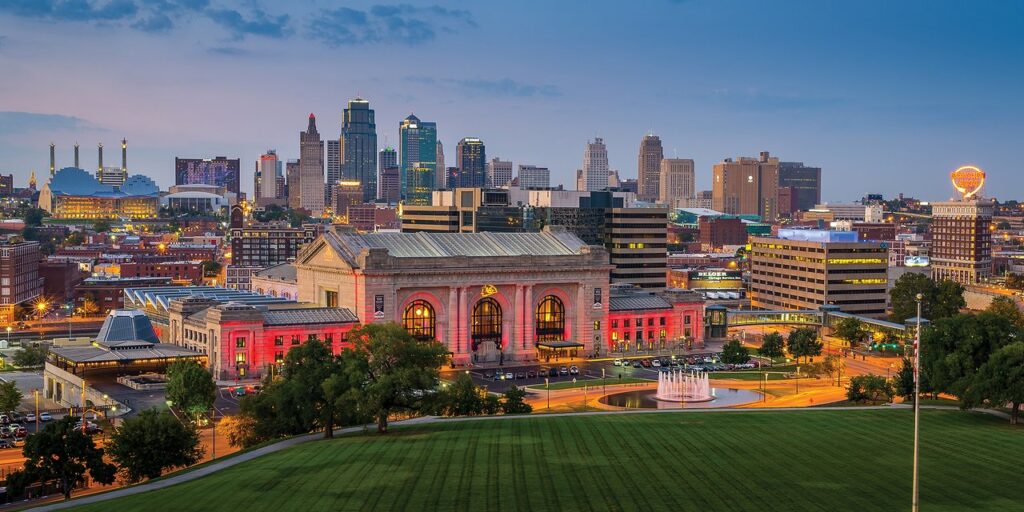 Prior to determining that Kansas is the state for you, there are several things to remember. Here's some details that Dorothy forgot to mention about the Sunflower State the last time she strolled across your TV screen.
Ready to Move in Kansas?
Check our list of the best interstate moving companies
The housing deals in Kansas
Housing in Kansas is cheap, it is ranked by U.S. News at number seven when it comes to affordability.
Zillow reported that the median price of homes in Kansas is $169,900
$1,080 is the median rent price.
A study conducted by United Van Lines ranked Kansas 45th for inbound moves. This means a lot of people choosing to move across state lines were moving out.
57% of mvoers left the state for other opportunities; 64% of movers said that work opportunities were the cause.
If you were to look, homes are affordable and new construction is available. The house build around 1950 and 1959 is what represented most in Kansas. The new construction housing in available aound Wichita and Kansas city which is mostly suburban areas.
Affordability
Almost everything in the state is affordable not just in terms of housing. Factors such as food, health care, transportation and utilities made the state number 7 when it comes to affordability. And, from national index of 100, Kansas came in 90 in terms of cost of living index which is 10 points lower than the national average.
This means, you don't need to stress your self about having a cake and eating it. You can also buy two cakes. And, the best way to lure people tomove to your state is of course offer cheap housing and cost of living.
Jobs in Kansas
Agriculture has been long established boss status in most of the state. But, there are also many leading industries like health care, transportation, trade, and manufacturing that has open opportunities.
Industries such as health care and manufacturing are increasing by 0.1% or about 2,000 new jobs.
Bureau of Labor Statistic reported that unemployement rate as whole is at 3.4%. It is way below the 4.1% national average.
Walley Hub ranked Kansas 15th among the best states when looking for a job. The factors such as job opportunities and economic outlook was considered.
Kansas's job market isn't the best however it's definitely way better than some state. So the job market in Kansas isn't really taking hits, it's not really offering much.
Kansans Love their Jayhawks
If there is one thing that Kansansans are known for, it's being a die-hard fan of the beloved KU Jayhawks. They are also known for their friendliness, as long as it's not time for March Madness. Perhaps we'll chalk that one up to true congeniality fed with grain.
Two sides of when moving to Kansas
The last thing to consider about Kansas is that there are two very different kinds of Kansas. One is the eastern portion, surrounded for miles by lush green land and corn. The other is the dryer western pasturelands that are known for their production of cattle and wheat. A disparity between cultures also comes with the distinction in appearance.
In eastern Kansas, where lively metropolitan areas deliver top services and diverse communities, the majority of the population resides. For a vibrant downtown and flourishing festival and art scene, your top option is Wichita's largest city. For a smaller, more affordable town with a young liberal vibe, check out Lawrence. It's a university town with a friendly atmosphere and a vibrant downtown neighborhood.
While there is a more metropolitan atmosphere in the eastern region, the western half of the state indulges in a slower pace of life, one more in tune with the agricultural lifestyle of small towns. East or western Kansas would be a different match for different people, depending on their age and style of living.
So Moving to Kansas State?
For one thing, affordability is a huge draw for potential movers moving into the state. For different people, there might be different vibes and suits, but as long as you're not determined to shoot rabbits from a motorboat or catch fish with your bare hands, you'll find Kansas a friendly place to move.