When moving to another state with a leased car, one of the last things on your mind is if you have the legal right to do so. You immediately think you'll be able to do it because, after all, you're paying for the privilege of driving the car, right?
It is debatable. Many leasing companies will restrict lessees from permanently relocating their leased vehicles to another state. The majority of lessors, on the other hand, would only allow lessees to take their leased vehicles out of the country.
So, will you take your leased car to another state or not?
Follow the procedure below to find out what you can and can't do with a leased car while moving to a new state.
Is it possible to relocate a leased vehicle to another state?
Here's the deal: some lease agreements prevent you from permanently relocating your leased vehicle to another state. Other lease agreements would not place such restrictions on you, but you will still be required to meet a few obligations prior to the transfer – see below for more information.
So, if you're heading to a new state soon and aren't sure if you should take your leased car with you, here's what you should do.
Go over your lease agreement
You should be able to drive the leased vehicle out of state according to the lease agreement you negotiated with the lessor. As a result, you can go over your lease agreement and look for the terms and conditions that pertain to your situation.
It's important to remember that and lease agreement is unique, so you may not find the details you need – the information that specifies the right to transfer your leased car to another state.
Make contact with the lessor.
Since each vehicle lease agreement is unique, the best thing you can do is contact your car lessor to let them know you're moving to another state.
You have nothing to worry about if the terms and conditions of your lease agreement with the lessor are clearly defined and allow you to drive the leased car around the country. If not – as is often the case due to imposed restrictions for one cause or another – ask the lessor if the lease agreement can be revised or annexed so that you can drive your leased car in a separate state without facing any legal issues.
As a lessee, fulfill your responsibilities.
Please remember that most lease agreements allow you to travel out of state with a leased vehicle, but you must contact the lessor in advance. As a result, the lessor should be willing to assist you in preparing any additional documentation required to register the leased vehicle in the new state.
Keep in mind that the leasing company is also the owner of the leased vehicle and therefore holds the title. In addition, depending on the state you're moving to, your lessor may be required to provide additional paperwork related to state-specific rules, taxes, and fees.
Make arrangements for the return of the leased vehicle.
If your rental contract expires shortly after your out-of-state transfer, see if the leasing company has a licensed dealership in the destination state, so you can return the leased car there in the best-case scenario.
If that isn't an option, you'll either have to drive the leased car back to its original location to return it to the lessor or employ an auto transport company to deliver the car for you.
Keep in mind that, in most situations, your leased car would have to return to where it all began when you're permanently relocating to another state.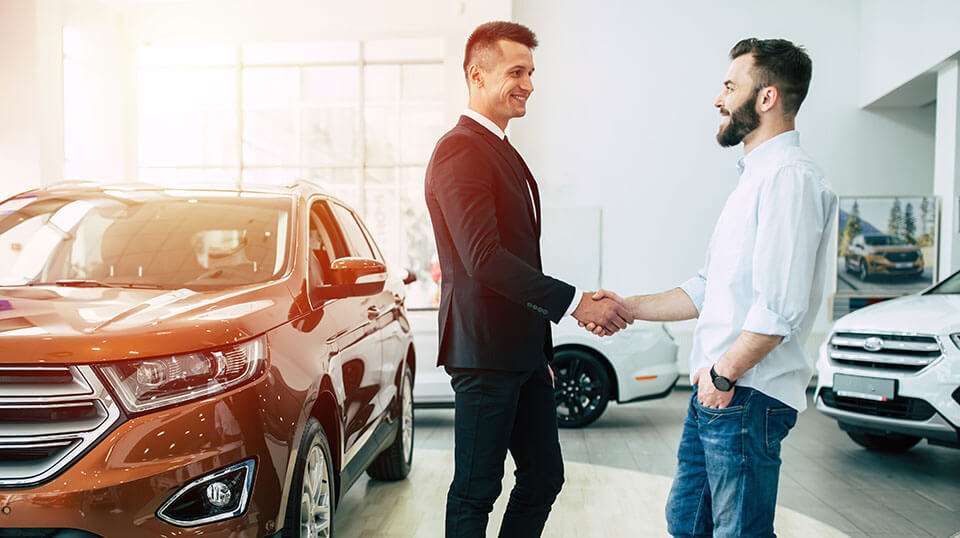 How do I register a leased car in a different state?
When you arrive in a new state with your leased car, you must report it within a certain amount of time. Don't put off this vital post-move activity because some states only allow newcomers to register their vehicles for a 10-day period.
1. Try to request the original car title or a licensed copy from the leasing company. They should also give you restricted power of attorney to register the leased car in the new state.
2. Collect the paperwork you'll need to register your leased car in a different state. The easiest way to do this is to approach the new state's local DMV and ask them what documentation need for registration. Below are examples:
a. Current registration
b. Certified copy of the car title certificate
c. Driver's license
d. Proof of paid tax in the destination state
3. If you've recently relocated to a new state, you'll need to update your driver's license. If that's the case, you'll need to apply for a new driver's license in the new state. In certain states, passing a vision test or taking a written exam may be necessary before receiving a new one.
4. Get insurance for the leased vehicle in the state where you recently moved. Unfortunately, even though you have a legitimate auto insurance policy from your previous state, the DMV in the new state would not remember it. If the existing auto insurance provider does not work in the new state, you will need to find a new one.
5. Visit the nearest DMV office in person and begin the registration process for the leased car in the new state, ready with all required paperwork.