For local moving, long-distance, and international relocation, International Van Lines serves as both a carrier and a moving broker.
International Van Lines is a moving expert, with a vast truck fleet, partnerships with foreign carriers, and experience transporting household goods all over the world. It's a particularly wise option if you're relocating around the country or internationally.
Keep reading to learn more about the advantages and disadvantages of hiring International Van Lines for your upcoming relocation.
Pros:
Worldwide availability
Discounts on moving services
An optional (and often included) storage
Award-winning customer service
Cons:
Moves outsourced to other carriers
25% deposit required at booking
International Van Lines Cost
Summer rates at International Van Lines vary from $2,000 for a one-bedroom unit less than 200 miles to just over $10,000 for a four-bedroom home less than 1,000 miles. IVL's rates will drop by up to $1,000 in the winter.
These rates are comparable to those in the industry. It's shocking that IVL's rates aren't a little higher when you consider the high-quality service they offer (more on that later).

You'll find that the two longer moves have the same cost in both home size categories, and the two shorter moves have the same price in both home size categories. Since these are all approximate figures, not quotes for actual moves, IVL provided us with these rates in this manner.
Like always, you won't know how much your move would cost until you get your own estimate.
International Van Lines Calculation
One of the most challenging aspects of dealing with International Van Lines is receiving an accurate quote because you must have a full listing of what you're moving when you're moving it, and where you're moving it. In addition, you must include your full name, address, and phone number.
However, IVL's comprehensive online and over-the-phone quote method is much more reliable than other companies' instant quote generators. You'll make a detailed list of how many beds, dressers, couches, tables, and even odd things (like canoes) you'll be transporting so you can estimate the cost of your truckload.
What's included in every International Van Lines move
Basic furniture assembly and disassembly
Loading and unloading
Use of pads, blankets, ties, and straps for furniture protection
Moving items up or down one flight of stairs
All tolls, mileage, fuel, and taxes (unless otherwise listed)
Liability protection ($0.60 per lb. per article, only up to $10,000)
At an extra cost, IVL also provides full-value insurance, which covers harm to your belongings at a higher rate per item. You can also buy maritime insurance for your shipment if you're going abroad.
International Van Lines moving fees
You may have to pay additional fees based on the logistics of your move. Use this review to get a better idea of your total cost.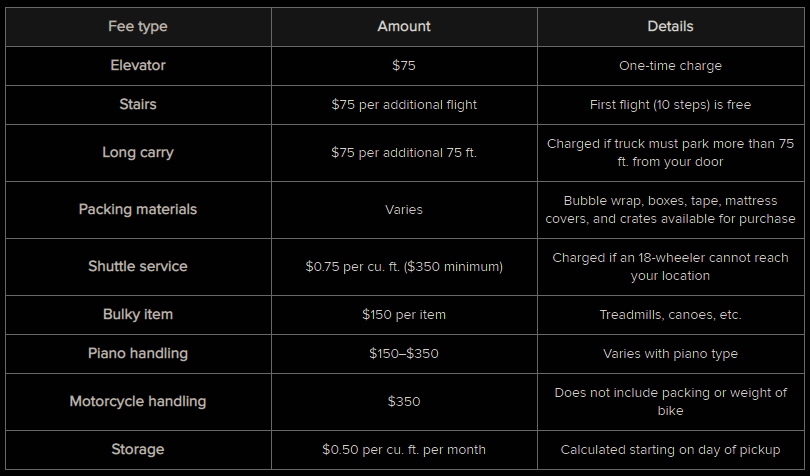 Long-Distance Move Price
Both long-distance and international moves require a deposit, which is usually 25% of the total quote. The deposit holds the date for your belongings to be picked up by your courier, but it is completely reimbursable if you cancel your move 48 hours before the pickup date. The deposit can be made with a credit card, and it will be deducted from the total account balance.
The balance is divided into two payouts: half is paid at pick up, and the other half is charged at delivery. The balance must be paid with a cashier's check, cash, or money order.
Local Move Price
A local relocation is not handled by International Van Lines. When you send a request form, a list of vetted companies that provide door-to-door service in your area will be provided.
Local moves are charged by the hour rather than by the pound. Several factors influence the hourly rates:
How many movers you need
The time and date of your move
The size of your home
The number of bulky, heavy items
What do they offer?
International Van Lines, which began operations in 2000, has a strategic advantage in both domestic and international moving. Its global scope and range of services make it a clear winner for difficult cross-country or international moves..
Standout Features
It offers a wide range of moving services.
Its programs are available all over the world.
It has a temporary storage option.
Services
Free online and over-the-phone quotes
Local moves
Long-distance moves
International moves
Online rental discounts
Online reservations
Packing, assembly, and disassembly services
Moving advice
Moving forms
Optional temporary storage
Auto transport services
Military moves
Small moves
Corporate moves
24/7 customer service
Door-to-door and port-to-port service
If you have more than the typical boxes, dishes, chairs, and worthless knickknacks found in almost everyone's home, you'll appreciate IVL's moving services.
Do you require a crane to remove your hot tub from your porch? Or the second pair of hands to help you get a baby grand piano out of your living room? Test and double-check. Trained personnel arrive prepared to pack and transport virtually everything you order in a secure and timely manner.
They offer the following specialty moving:
Full-service packing
Short or long-term storage
Specialty crating
Large and heavy item moves
Crane service
Piano transport
Complex furniture assembly and disassembly
Motorcycle handling
The great thing about International Van Lines' moving services is that they are available all over the world. You'll find a variety of vetted door-to-door and port-to-port moving options if you're moving from Botswana or Boston.
(All of these options are much better than recruiting a stranger from Craigslist.)
Additionally, International Van Lines has moving coordinators that can assist you with the global moving process, including customs checks, international transit times, and cross-border charges.
These additional fees can vary depending on your relocation process, but if you order door-to-port service, you will be responsible for paying port and terminal handling charges (THC) at the destination port.
So that you know what to expect, get more details on these costs from your destination country, customs offices, the local embassy, or your moving coordinator.
OPTIONAL TEMPORARY STORAGE
You might want a place to temporarily store your belongings if you're a military member looking for a new home after a Permanent Change of Station or a civilian waiting for a sale to close before settling in.
International Van Lines, thankfully, provides a range of storage options. Customers have reported receiving a month of free storage as part of their moving packages. To securely store your household goods before you need them, choose warehouse or portable storage.
WAREHOUSE STORAGE
International Van Lines will provide customers with storage in (almost) any country or state thanks to its global network of thousands of partner warehouses. IVL keeps an eye on the facilities to make sure they're safe and secure for storing your belongings before you're ready to move in.
PORTABLE STORAGE
Try IVL's portable storage if you need a few more days to pack—or if you just want everything stowed in a single container in your driveway. Your belongings will be packed in weather-resistant cubes and transported to an International Van Lines storage facility before your new home is ready.
Conclusion
International Van Lines is an established carrier and broker for international, long-distance, and local moving. Its presence in all 50 states and around the world, as well as its skilled drivers, ensure that your belongings are safe from Toledo to Tahiti.
One word of warning about moving with International Van Lines: the quote process takes time and involves a complete inventory of your house, so prices can differ based on the details you provide. Try in-home estimates for the most reliable pricing; when confirming the cost, make sure to ask for a list of any additional fees.