Looking for a roommate to help you split the cost of expensive city rents? Find a roommate online can be easier than it seems. There are plenty of websites out there dedicated to helping people match up with others who have the same housing needs.

1. CRAIGSLIST
Craigslist might be the website most utilized worldwide for finding housing arrangements – even though it's not just known for helping people find roommates. Its several categories, from "apts / housing" to "real estate for sale" and everything in between contain plethoras of posts from building managers, brokers, and would be occupants looking for an ideal match-up with someone looking for what they're offering.
The sheer volume of posts looking for roommates and visitors looking at these posts makes Craigslist a reliable site to find a roommate. Craigslist's "rooms/shared" and "rooms wanted" sections have thousands of these posts, searchable and pre-localized to help users find the posts most relevant to them. Of course, Craiglist is very lightly moderated and structured overall, and is infamous for being infiltrated by scammers at times; exercise caution when using Craigslist to help find a roommate.
2. FACEBOOK
The web's largest social networking site and one of its largest sites overall, Facebook is utilized by millions of people around the world for almost as many purposes. Facebook groups have enabled the site's users to join huge groups of peers in their home cities to find others who have open rooms or are looking for apartments. Housing centric groups in large cities like New York city can often contain more than 100,000 members, making Facebook one of the top sites to find roommates.
Facebook has a lot of the same appeal as Craigslist for those looking for housing, with a little additional built-in security with posters needing to attach their facebook profiles to any postings. Plus, facebook has built-in messaging to enable seamless in-channel communications between roommates or people with an extra room & those interested in their rooms.
3. ROOMI
Roomi is an app that unites renters with rooms they need to fill with renters looking for a room to rent. Whether a renter is looking for a temporary sublet in a certain neighborhood, or is looking to explore long-term options in larger swaths of that city, users searching out rooms can cater their searches to find results most relevant to their desires. Roomi is also available as an app, so busy New Yorkers balancing work and social life can apartment hunt on the go.
Roomi presents more information in user's profiles than most roommate finding websites of its ilk, so potential roommates can get to know each other's likes & dislikes (and make sure neither of them is a creep). User profiles on Roomil are reminiscent of dating app Tinder profiles, presenting all the important information about the renter/rentee in a mobile-friendly format.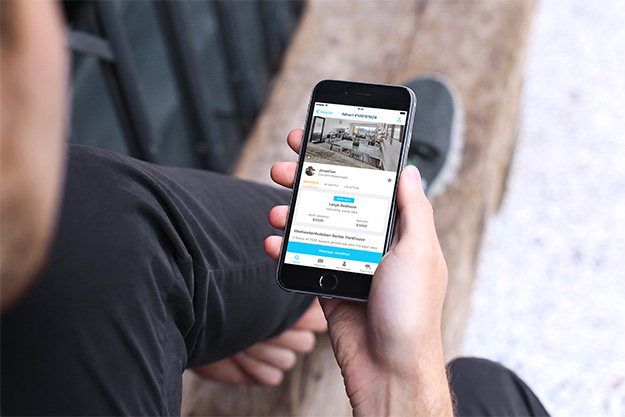 4. SPAREROOM
Spareroom is like Craigslist, but tailored towards renters looking for unfilled rooms in apartments or houses. There is plenty of search criteria renters can use to find rooms/apartments, like sorting for agents/private landlord listings, pet-friendly, monday-friday/weekend only, even helping students looking for other roommates who are students to matchup. Spareroom's search results are written like classified ads, and the search results have all details about each apartment included (like a picture thumbnail, cost, and date of availability).
4. RENTHOOP
RentHoop is a roommate, rooms and sublet finder app available on iOS and Android phones. The app helps match prospective roommates based on compatability and their parameters. Search options allow users to seek out specific timeframes (short or long term), and highly customizable profiles allow users to get to know their prospective roommates before they message them.
5. LISTINGS PROJECT
The Listings Project is a unique way to find a roommate for apartment searchers. Rather than having an onsite directory, the Listings Project functions as a weekly listserv. The listserv contains submissions made on the Listings Project's website. Each email sent to the listserv's subscribers is curated by local artist Stephanie Diamond to ensure all the submissions to the weekly emails are legitimate and submitted by individuals, not brokers. TLP is particularly oriented toward creative individuals and artists. Whether you want to sign up to receive the emails or send one of your own, there are plenty of opportunities to connect with a roommate using the listings project.


6. ROOM ZOOM
If you're looking for the perfect roommate who mesh with your personality, Room Zoom might be the website to use. Room Zoom utilizes techniques utilized by dating sites to create an algorithm to match its users to other users who could be ideal roommates. (Think of it as an OkCupid for finding roommates). Users answer a series of basic questions about their lifestyle and personality and then can see a list of matches based on compatible answers. From there, it's up to the users to connect and figure out if they've found a new roommate.
Related Articles :