Moving large furniture involves the use of proper techniques and tools. You're always at risk when you try to do it yourself without the tools necessary or knowing the correct approaches. You can move bulky and heavy furniture safely and easily if you have the right tools and understand the strategies used by professionals.
One of the main reasons we prefer to hire a moving company is because we find it difficult to pick and transfer heavy furniture from one location to another. And, it is a proven fact that if we are unable to comfortably handle or raise huge furniture, we risk injuring ourselves or destroying the furniture and other belongings in the house.
Professional moving service providers, on the other hand, are well-trained, know the proper techniques. They have all of the necessary equipment to lift and transport even the largest and heaviest furniture without causing any problems.
If you're planning a do-it-yourself move and aren't sure how to transport large, heavy furniture on your own, in this post about moving larger and heavier furniture, this will show you a few quick and easy tips that can help you move any kinds of furniture on your own.
Tips for DIY Moving Large Furniture
You know, when you have the correct equipment and know the appropriate strategies, performing something becomes a lot easier, and moving businesses are no exception. They have all of the necessary tools and know how to use them. They can transport any of your belongings, including heavy and bulky furniture.
As a result, if you're moving huge furniture by yourself, it's critical to have the necessary tools and understand proper practices such as how to grip, pick, and move heavy furniture.
Plan in Advance
You'll need to plan ahead of time if you want to move large furniture smoothly and safely. Assess whether you needed assistance or can complete the task on your own.
After that, determine out exactly what you'll be carrying and where you'll be carrying it. Because you'll be moving the furniture by yourself, make a list of all the potential hazards. Prepare yourself to deal with them properly.
Also, think about where you'll store your belongings after you've unloaded them in your new home. This will help you pack them in the appropriate order.
Disassemble and Lighten Large Furniture
Try to lighten the load as much as possible when transferring the heavy and bulky furniture. Before lifting and transporting the furniture, remove any attached elements that can be removed.
When moving a desk, for example, avoid moving it without first emptying the drawers and other contents. If you don't have the option of removing the item, tape the drawers and shelves shut so they don't open while you're lifting and carrying it.
It will also be easier for you if you remove the furniture legs as well as any protruding handles, knobs, or pulls. However, remember to mark items as you remove them so that you can put them back in the correct location afterwards.
These will not only make the furniture easier to transport. They will also assist protect walls from being gouged, floors from being scratched, and fingers from being pinched.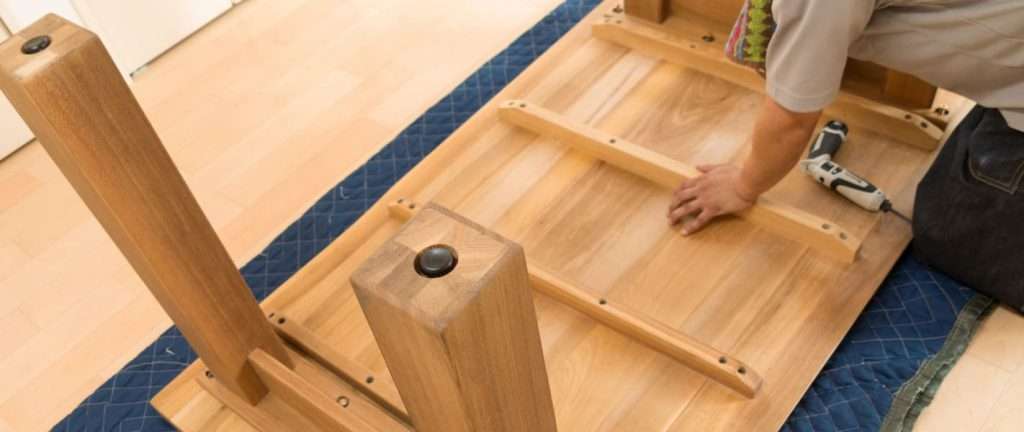 Use the Right Tools to Help You Move Large Furniture
If you have to move huge and heavy furniture by yourself, you will certainly need the appropriate moving tools, equipment, and packing supplies. So, here are some of the things you'll need to plan for:
Dollies
Dollies are one of the most important tools used by moving companies when transporting large and heavy furniture. A utility dolly is a tool with two wheels that stands upright. A furniture dolly, on the other hand, is flat and has four wheels. You'll need a furniture dolly if you're transporting furniture. These are readily accessible for rent, so take use of them before your move. Washing machines and dryers are best moved with furniture dollies. However, if the thing is higher than your chest level, use extreme caution or avoid using a dolly.
Lifting straps
This moving tool works like a pulley system, allowing you to easily raise huge and heavy furniture. The great part is that by reducing the center of gravity of the massive and heavy furniture you are lifting, lifting straps will assist you put less pressure on your body.
Stair rollers
Stair rollers make it easier to move heavy furniture down the stairs. However, if you don't know how to securely assist the furniture down the stairs, it might be dangerous. Even if you are sure of your ability to do the task. It is recommended to ask for the assistance of others rather than going it alone.
Glides and sliders
Instead of raising your huge furniture by hand, it is highly recommended that you use sliders. These are often the plastic disks that fit easily beneath huge and heavy furniture. It allows furniture to glide across the floor effortlessly when being pushed. You only need to slide the slider under the furniture's legs, not lift it. After that, slide the right material underneath it and tilt it to the side. Sliding doors are the finest solution for dressers and couches.
In fact, the sliders not only let you move large goods more effortlessly, but they also protect your carpet and hardwood floors from being scratched or damaged while doing so.
Protect Your Furniture and Other Stuff
When moving huge and heavy furniture from one room to another, you are quite prone to hit the doorways. To avoid this from happening, you can remove the molding from the entrances that falls in the path, giving you more room to move the heavy furniture.
You might also use quilted pads to cover your furniture, which will assist to protect your entryway. Bubble wrap and furniture blankets are also useful. Just make sure the covering is taped securely to the thing you're carrying so it doesn't slip while you're moving it.
Study and Use Proper Techniques
Professional movers are well-trained in transporting big and huge furniture, and you are not one of them. You might not have much experience carrying large goods. To avoid catastrophic injury, you must be extremely cautious when moving huge furniture.
For your own protection, here are a few safety tips to remember when moving large furniture.
When lifting anything, make sure you raise with your legs rather than your back. If you do not do so, you risk severely injuring your back.
When carrying heavier goods such as big furniture, the proper bending posture is critical, and you should bend at the knees rather than the waist.
Always remember to straighten your hips and knees, then extend your legs and exhale.
When moving furniture, do not twist your body or your bed forward.
Hold the furniture as near to your body as possible and at the appropriate height, such as at the level of your belly button.
When lifting and moving huge furniture, you should not rush. Take your time and be careful.
Never lift big furniture or any other heavy object with your arms extended outwards or above your shoulders.
Final Thoughts
Moving is always difficult, especially if you are doing it yourself. However, when it comes to the lighter and smaller household things, they may still be packed and moved effortlessly and safely. However, moving huge furniture by oneself will be difficult, necessitating the need of expert packer mover services.
If you don't know how to utilize the appropriate techniques, you'll not only increase the chance of ruining the furniture, but you might also injure yourself. This is why hiring movers is always the best option, as they are skilled and equipped to carry heavy and huge items.
Related Articles