Ok, you might be moving to Oklahoma or planning to move there why you are here. But before you pack your things and prepare your checklist, we have useful fun trivia and statistics that will help you decide whether Oklahoma is right for you!
We have researched the internet and ask some Oklahoma people what they feel and say about the state. Then we compiled all into this handy guide to help you decide and prepare to move to Oklahoma.
The state is also called The Sooner State. It is home to about 3,940,521 people and growing about 0.25 percent over the past years. The state is the 28th most populous state in the country and ranked 2oth in terms of landmass.
But what if you are moving to Oklahoma for a future? What jobs scene looks like in Oklahoma right now?
Moving to Oklahoma?
Check our list of the best interstate moving companies in the US
Moving to Oklahoma Guide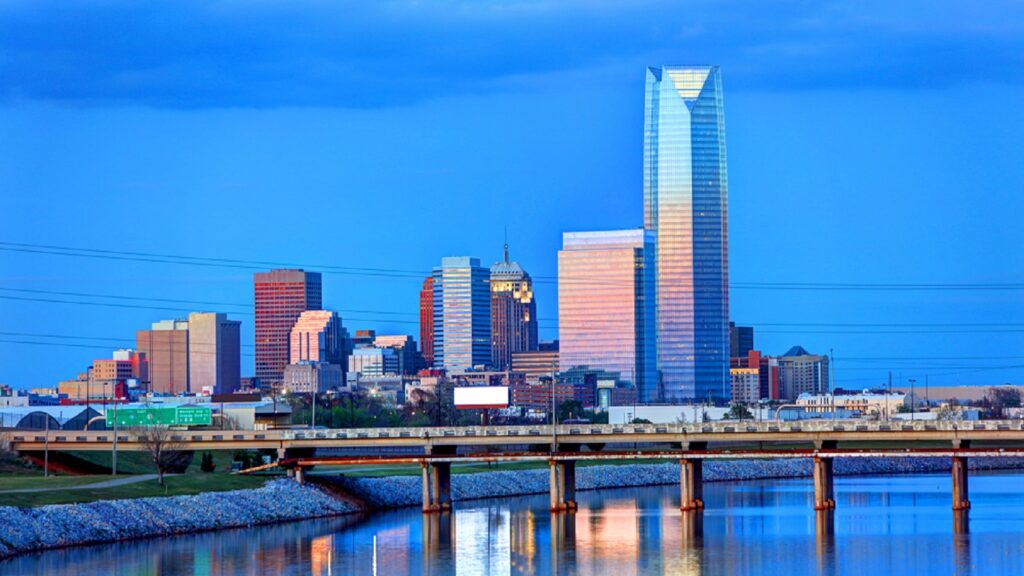 Job Market
You may be packing your former job into a moving box now and taking it with you, or you may just be trying to start completely new. We want to talk a little bit about both the local work market and where you might fit in either way.
To start with, according to the Bureau of Labor Statistics, the current unemployment rate in Oklahoma is 4.0 percent, which is neck-and-neck with the national average of 4.1 percent. According to minimum-wage.org, the minimum wage for the state also compares to the national minimum, at $7.25 / hour now. But really the excellent thing is that the overall cost of living in Oklahoma is below the national average, so every dollar you make is going to go even further.
And some of the fastest-growing positions when it comes to the hot jobs across Oklahoma include automotive mechanic, physical therapist, computer machinist, personal care assistant, nurse practitioner, web developer, and personal banker. And the highest-paying jobs include psychiatrists, dentists, surgeons, physicists, pediatrician, nurse anesthetist, and CEO if you're just trying to chase those big bucks.
Options, anywhere. In the medical and fixer-upper departments, particularly. Now let's talk about housing.
Housing in Oklahoma
There's plenty to choose from here in OK, regardless of whether you're set on living in the heart of Oklahoma City or buying a ranch in the middle of nowhere. But let's talk about the housing situation around here a little more.
In Oklahoma, the current median home value is $119,800 after home prices have actually increased by 4.9 percent over the past year. Homes are currently classified for an average of $182,633 on the market, and they sell for around $139,800. That's huge, because, for every buck you've got here, you can get a lot more boom, a total dream of home buyers. But you can expect to pay about $1,000 / month if you'd like to only rent a home.
And if you want a new home, there's a lot of new development going on all over middle Oklahoma — from Norman, through Oklahoma City, all the way south to Tulsa. In the state around Lawton, a tiny bit is also happening farther southwest. But anyway, wherever you find open land around here, you can build a brand new home.
But if apartments seem to be more of your nature, at some pretty fantastic rates, you still have a lot of great choices to choose from. One-bedrooms go for approximately $658 / month in the state capital of Oklahoma City. In Edmond, you'll pay a little more-about $739 / month, but between $609 / month and 705 / month, Tulsa, Norman, and Owasso all have one-bedrooms. How amazing is that?
What we love about moving to Oklahoma?
Diversity: Locals have consistently confirmed that their community is much more diverse than an outsider would expect. There is a big white, black, Native American, and Hispanic mix, maybe different from what many expect.
Low cost of living: Oklahoma is crazily cheap, ranked by us today as the # 4 "least expensive place in the U.S." The average cost of living level now is just 90.4, whereas the median for the country is 100. Given the low costs of accommodation and services, in particular, it is said that leisure expenses are also lower here. So, you will not only find yourself an inexpensive place to live but also you can find plenty of things to do that will not break the savings account, too.
BBQ Life: Everybody here raves, like, really, about the BBQ. The argument of being "the best" here, obviously, is simply one that is deserved. The folks in Kansas City and Memphis, of course, make the same comment about it, but they're all completely different styles. It's all awesome, though.
No peak hour: The absence of traffic is one advantage of not being surrounded by big cities. Locals said that there wasn't even a rush hour there. And who doesn't love traffic avoidance?
Oh, there you have it, our sneak peek. We obviously couldn't answer all of your questions , but we hope you feel much more secure about your step. We're hoping to drive you closer to your right path.
Any finger-licking 'BBQ and cowboy boots are your things, go ahead and pack your luggage for as long as a super-low cost of living. Always make sure you are covered by medical insurance that is affordable.
Moving to Oklahoma? We can help!