Items that require climate-controlled storage! Protecting valuable possessions from excessive temperature fluctuations and excess moisture necessitates climate-controlled storage. As the first line of defense against property damage caused by hot and humid summers and bitterly cold winters, it maintains a constant, moderate temperature and circulates air continuously.
We'll go through a few of the products that require climate-controlled storage in this post, as well as some advice for assessing whether climate control is the best option for other objects you want to keep.
Items that must be kept in a climate-controlled environment
Collectibles
Whether you collect coins, stamps, sports cards, or something else, storing them in moderate temps will help prevent tarnishing, warping, mold, and mildew caused by exposure to severe outside temperatures. This is an object that must be kept in a climate-controlled environment.
Documents
Important documents such as legal documents, medical data, and company forms can all benefit from climate-controlled storage. These objects may become illegible or damaged if they are exposed to too much dampness.
Electronics
Reserve a climate-controlled storage unit if you're keeping TVs, computers, video gaming systems, DVD players, or recording equipment to preserve them from harm in extreme temperatures and humidity.
Antiques and Furniture
To avoid rotting, warping, discoloration, and mildewing, wood and leather furniture are better candidates for climate-controlled storage. Put important antiques in this climate-controlled group as well, regardless of the material.
Related : How To Choose The Right Storage Unit For Your Furniture
Cosmetics and Toiletries
Makeup and toiletries are examples of personal things that should be kept in climate-controlled storage to avoid mildew and spoiling. Before using these things after recovering them from storage, double-check the expiration date.
Appliances
When exposed to extreme temperatures in the summer and winter, mechanical components in domestic appliances such as refrigerators, microwaves, washers, and dryers are prone to rust, cracking, and other damage. Put this in the climate-controlled storage container.
Artwork
Most art dealers advise storing artwork in cool temperatures to avoid damage to the frame or the artwork itself. Excess moisture, dry air, and excessive temperatures can cause cracking, warping, discoloration, and other issues that jeopardize the piece's integrity. Climate control is required for this item.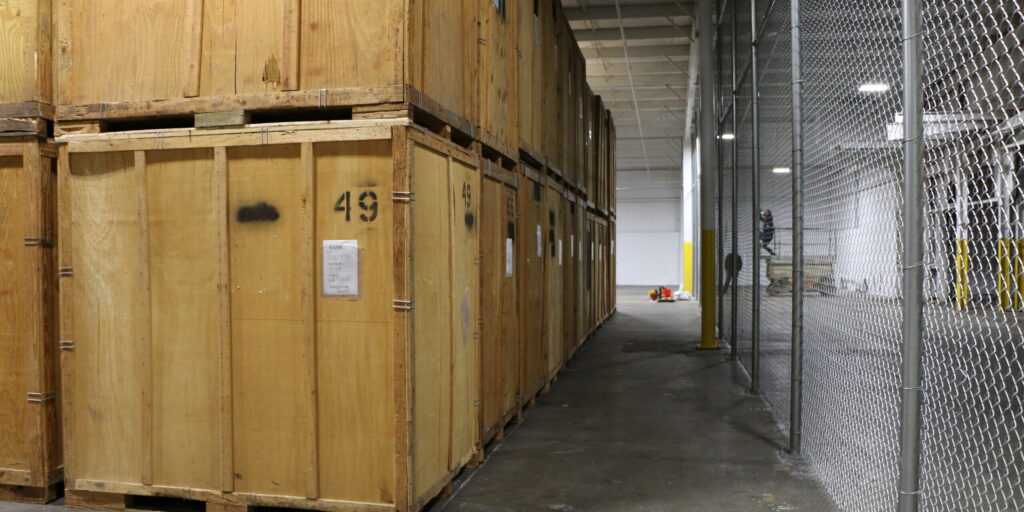 Magazines and Books
Mold, mildew, and other possible harm can occur when your favorite books and periodicals are exposed to dampness and harsh conditions. The quality of your favorite books can be greatly improved by storing them in a climate-controlled environment.
Canned and Bottled Goods
If you've bought water or canned items in preparation for a rainy day or a camping trip, climate-controlled storage can keep them fresh and secure. Another good candidate for this form of storage to help avoid spoilage is wine.
Media
If you have a collection of records, CDs, DVDs, cassettes, videotapes, or any other sort of media, consider storing them in climate-controlled storage until you can meet again.
Music Instruments
Snapped guitar strings, fractured or shrunken woodwind instruments, and rusted and bacteria-filled brass instruments can all be avoided with climate-controlled storage.
Photographs and Video
Choose climate-controlled storage to safeguard your photographs against mildew, discoloration, and other damage caused by moisture and excessive temperatures, whether you're a photographer or simply enjoy sentimental photographic memories.
How do you know if something needs to be stored in a climate-controlled environment?
The preceding list of objects that need to be stored in a climate-controlled environment is by no means complete. Other personal belongings may require protection from extremes of heat, cold, and humidity. So, how are you going to figure out which objects go where? Use the factors listed below to assist you in making your decision.
If an object qualifies for climate-controlled storage, it must meet the following criteria:
When exposed to moisture, it can mold, mildew, warp, crack, or discolor.
Can expand and compress in response to humidity
Requires certain temperatures for storage, such as artwork and wine
Is easily irritated by extremes of cold or heat
Is it precious, emotional, or rare?
To learn more about climate-controlled storage, contact our experts.
Related Articles: